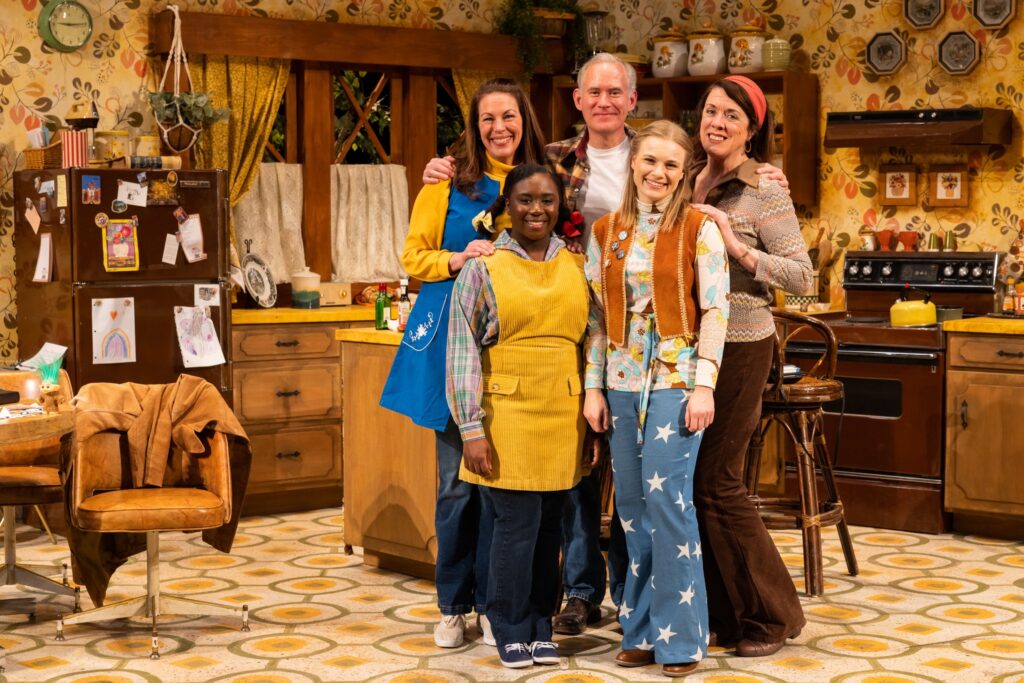 By Shelley A. Sackett
'Incident at Our Lady of Perpetual Help' will strike a particular chord among those of us whose wallets now hold Medicare and AARP cards. Written by Seattle-based playwright, Katie Forgette, it is a loving trip down her personal memory lane. She was raised Catholic and attended parochial school for 12 years. Her father was a hard working cab driver; her mother had many jobs, in addition to birthing ten children and caring for her own disabled mother.
The family wasn't poor, but only because her parents sacrificed personal goals and worked as hard as they could to be financially comfortable.
Her play is set in the 1970s, and Shelley Barish has created a believable set that focuses on the main gathering place in the house — the kitchen. Homey, shabby and beloved, the room is full of interesting mementos of that era without feeling cluttered. (I was not alone in noticing that the clock on the set wall told the actual time, a nice touch and a visual clue that the connection between past and present is real and fluid).
Linda O'Shea/Forgette, played by Autumn Blazon-Brown, is our 20-something year old protagonist. She makes clear from the get go that, although she is narrator, she may not be a reliable one. "Memory shifts things," she says. Telling old stories almost always involves the fallibility of memory. Two people, especially family members, remember the same event differently. She talks about the plasticity of memories, how they change over time and with each recollection to the point where, even when it comes to your own life, you may be considered an unreliable narrator.
She also points out the changes since the 1970s in the ways we communicate. "There was no posting; you lived your life in person," she says wistfully.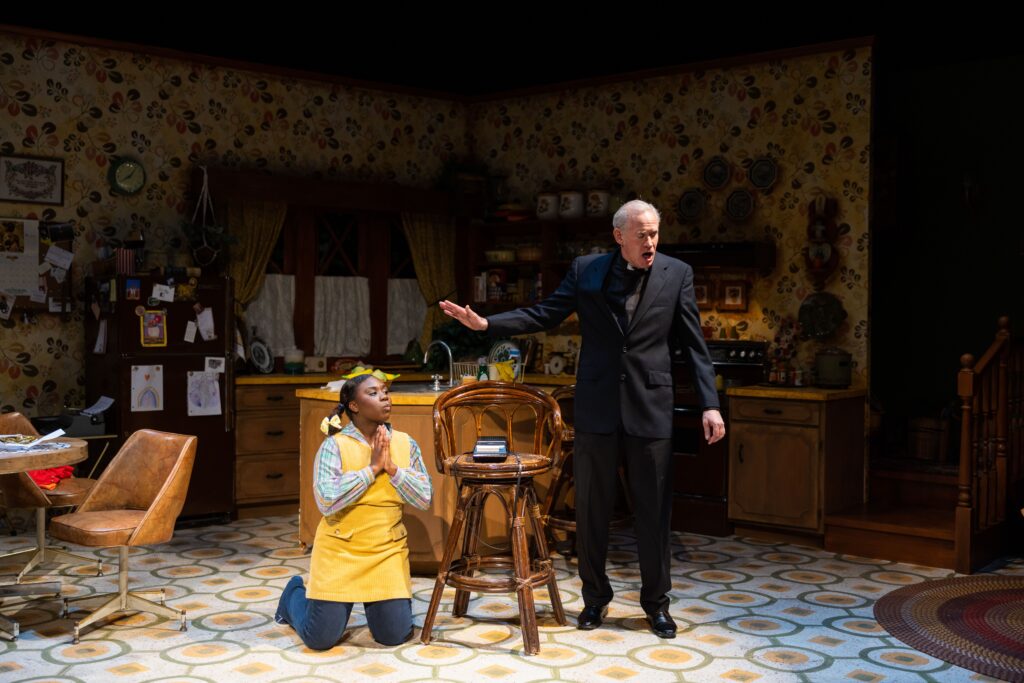 Nonetheless, she is determined to tell the story of her family from her perspective to the best of her recollection.
And so we meet her mother, Jo (Amy Barker), father, Mike (Barlow Adamson), younger sister, Becky (Vin Vega) and Jo's sister, Aunt Terri (the always fabulous Maureen Keiller). Over the next hour and 45 minutes (including an intermission), this cast of characters (along with a few hysterical cameos by a neighbor and priest) have one job and one job only — to tell the family story the way Linda remembers it.
Some of the characters are not too happy about their supporting roles. They want a monologue of their own, a chance to step up to the mike and explain their version of things. But Linda maintains control, doling out audience access sparingly and under strict time limits.
Although the plots twists and turns and the script's clever lines draw easy laughs, the real meat and message lie in the family dynamics. They are a tight knit bunch, glued together by bonds of love, loyalty and compassion and — most importantly — humor. They soldier on, often griping and acting out, but they are actors cast in the same play and, at the end of the day, blood is thicker than anything.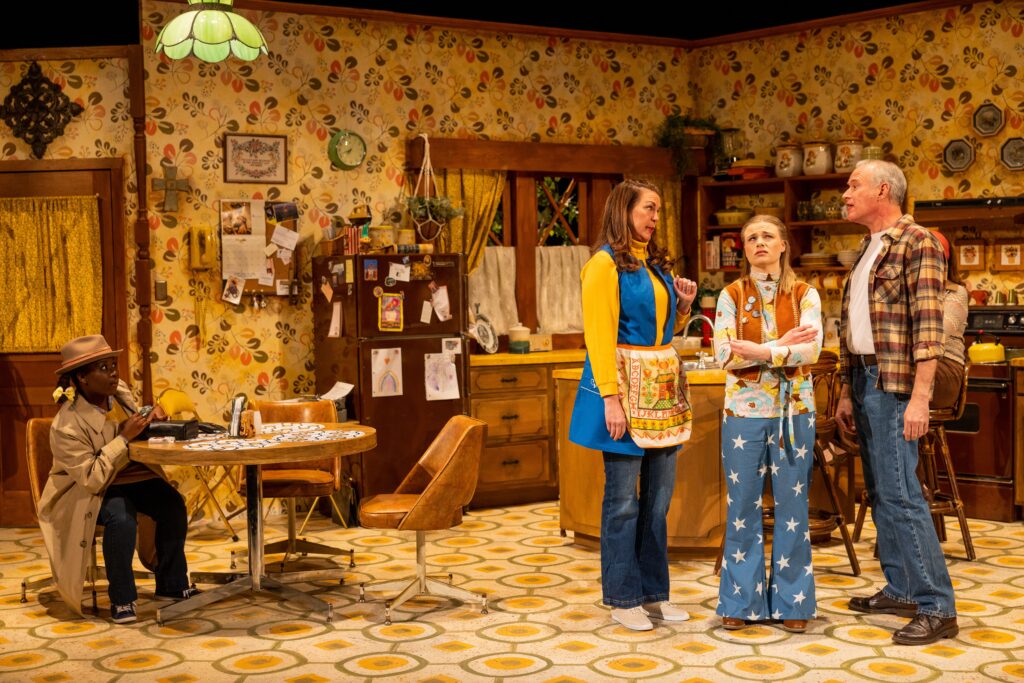 We are also treated to local parish customs and the hold the Catholic Church had over more than the religious aspects of their lives. Father Lovett and the infuriatingly patronizing church lady, Betty Heckenbach (both played with superb comic timing by Adamson) are examples of the hypocrisies and cruelty the church doled out with its communion wafers.
All the O'Sheas kowtow under the pressure to conform except Terri, who has known the pains of marital separation and barrenness, and isn't afraid to call a spade a spade.
The riveting Keillor is her usual scene stealing self. (She was likewise phenomenal as Sherri Rosen-Mason in the SpeakEasy Stage's 2019 production of 'Admissions'). Her performance is calculated, physical and impeccably paced. Yet, it doesn't have that "staged" feel. Rather, she makes Terri the warmest, realest and most 3-dimensional character on the stage.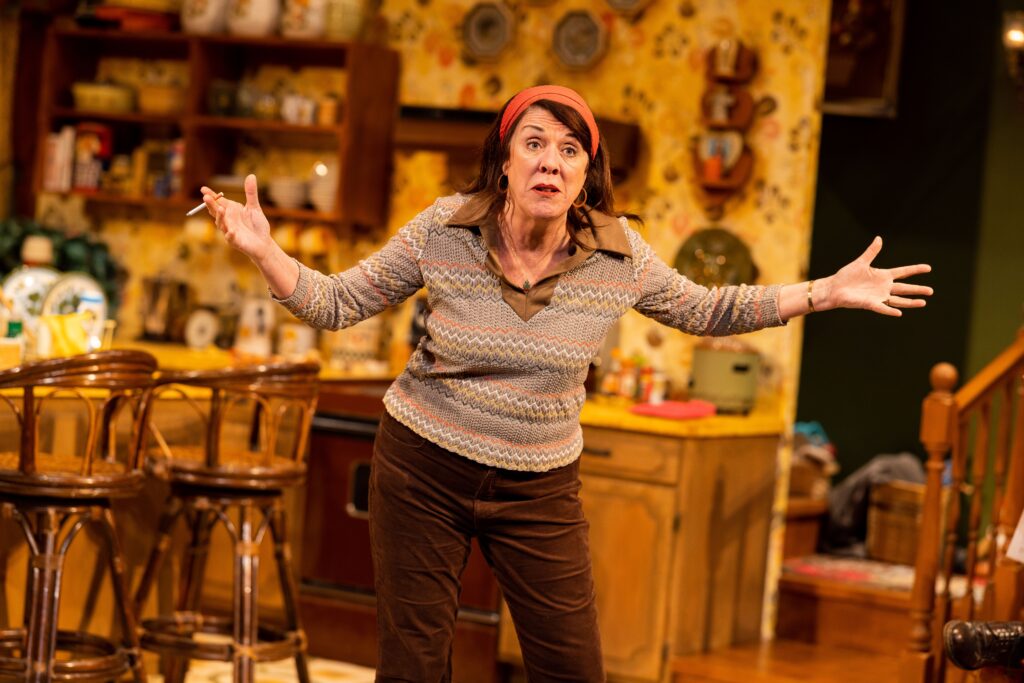 While Barker brings a warmth and strength to Jo and Adamson is great in his cameo roles, Vega and Blazon-Brown are weak links, delivering their lines in muffled tones at the speed of light. Too many great jokes are quashed and after a certain time, audience frustration sets in and we stop trying to catch every sentence.
Nonetheless, for Keillor's performance and a feel-good theatrical experience, 'Incident' fits the bill. There are some real belly laughs, thought-provoking messages and zinger one-liners in this production. For tickets and information, go to: https://www.greaterbostonstage.org/