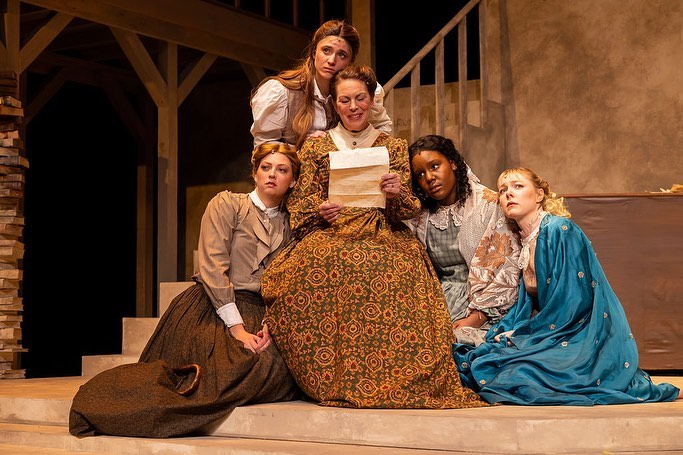 'Little Women: The Broadway Musical' – Book by Allan Knee based on the novel by Louisa May Alcott. Lyrics by Mindi Dickstein and Music by Jason Howland. Directed and Choreographed by Ilyse Robbins. Music Directed by Matthew Stern. Scenic Design by Shelley Barish. Lighting Design by Katie Whittemore. Costume Design by Gail Astrid Buckley. Sound Design by John Stone. Presented by the Greater Boston Stage Company, Stoneham through December 23.
by Shelley A. Sackett
Greater Boston Stage Company has a knack for picking the perfect material and director for its holiday offering. Last year, the musical, 'All Is Calm,' also directed and choreographed by the talented Ilyse Robbins, was a crowd pleaser that raised the bar and spoke to audience members of all faiths with a message that transcended the usual Christmas pablum. This year, with its flawless production of Little Women: The Broadway Musical, that bar got even higher. At 150 minutes (including intermission), the play didn't seem too long, a feat in and of itself.
Based on Louisa May Alcott's tale of four respectable sisters growing up poor but honest in Civil War-era Concord, MA, the musical follows the adventures of Meg, Jo, Beth and Amy March. Their individual personalities bubble up from the get go. Meg (the riveting Sara Coombs) is the eldest and most traditional of the sisters, prim and proper but romantic and sweet-natured. Jo (Liza Giangrande, giving a grand performance), the willful, spirited center and Alcott proxy in her novel, "Little Women", is a perfect musical-theater heroine. Equally driven to become a published author and challenge stereotypes about what it means to be a woman, she belongs on the masthead of Ms. Magazine.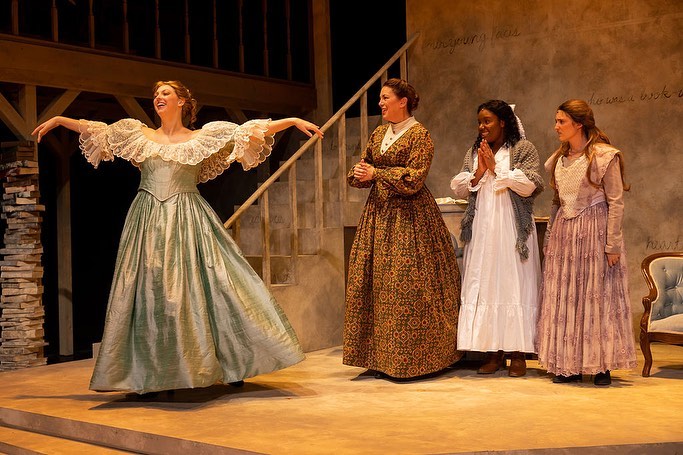 Beth (third year Boston Conservatory at Berklee student Abriel Colemanis) is timid, musical, and selflessly encouraging and helpful. By contrast, Amy (Katie Shults) is the spoiled baby of the family, overindulged and used to getting her own way. Shults plays her perfectly, capturing her pouty, tantrum-prone outbursts without erasing her underlying puppy-like irresistibility. At the helm of this brood is Marmee (the rock solid Amy Barker), the backbone of the March family who manages to remain strong in spite of the difficulties she faces.
The play opens in New York, where Jo is living at Mrs. Kirk's boarding house, trying to peddle her wild, swashbuckling stories to anyone who will listen to her pitch. Fritz Bhaer (subtly and effectively played by Kevin Patrick Martin), the sensible German professor also boarding with Mrs. Kirk, tries to persuades Jo that she is better than the "blood and guts stuff" she has chosen to write. She should try, he urges, to write more from her heart about what she knows.
In a magnificent flashback that establishes the cast's astonishing vocal and physical abilities, Jo tells him about the "Operatic Tragedy" she wrote and had her family perform on Christmas one year. The actors bring Jo's story to life in true melodrama form. Coombs, in particular, shines.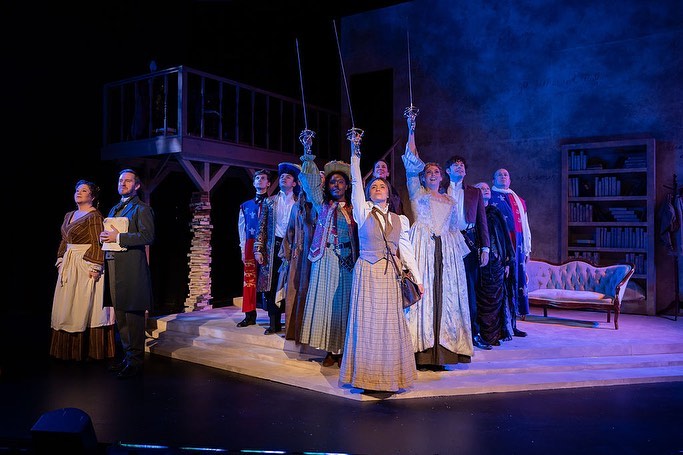 Thanks to a well-designed triptych set (Shelley Barish) and spot-on lighting (Katie Whittemore), the audience has no trouble following the action as it moves from the March home to New York to the March attic, which is Jo's special writing cave.
Along the way, we are introduced to characters who add spice while moving the plot along. Wealthy Aunt March (a terrific Deanna Dunmyer) wants to take Jo under her wing and treat her to a tour of Europe, but only if she agrees to change from a tomboy to a proper society lady. Their duet, "Could You?" is as musically stunning as it is hilarious. Dunmyer steals every scene she is in with her acerbic wit and perfect, sing-song cadence.
When Meg and Jo are invited to a St. Valentine's Day ball, they meet Theodore "Laurie" Laurence (Kenny Lee, talented and poised beyond his years), the lonely and guileless boy next door who infiltrates the March sisterhood and becomes an honorary brother. He and Jo share an ease and intimacy that, unfortunately for Laurie, doesn't translate into romance.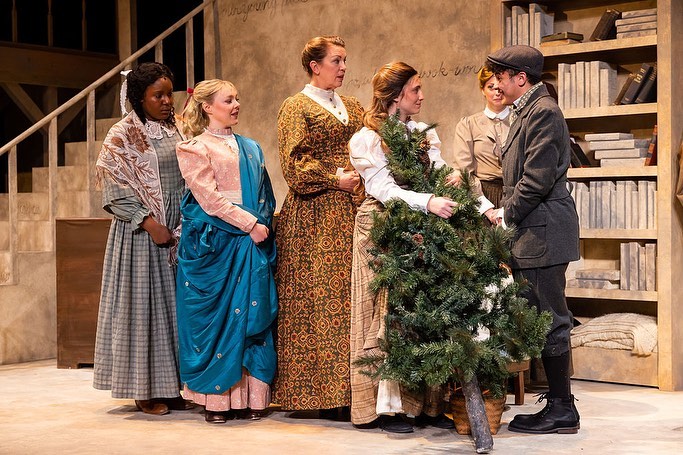 While hardly the most sophisticated or musically unforgettable show to hit Broadway (critics gave it a lukewarm reception when it played in 2005), the cast and crew at Greater Boston Stage hone in on its strengths and wring it dry. Robbins' director and choreographer chops are on full display and Music Director Matthew Stern is worth his weight in gold. Gail Astrid Buckley's period costumes add just the right touch.
But the real standing ovation goes to the universally airtight performances by an impeccable ensemble cast. What a gift to their audience, especially to this viewer, who has the enviable pleasure of writing an effusive review of a not-to-be-missed show. For tickets and information, go to: https://www.greaterbostonstage.org/