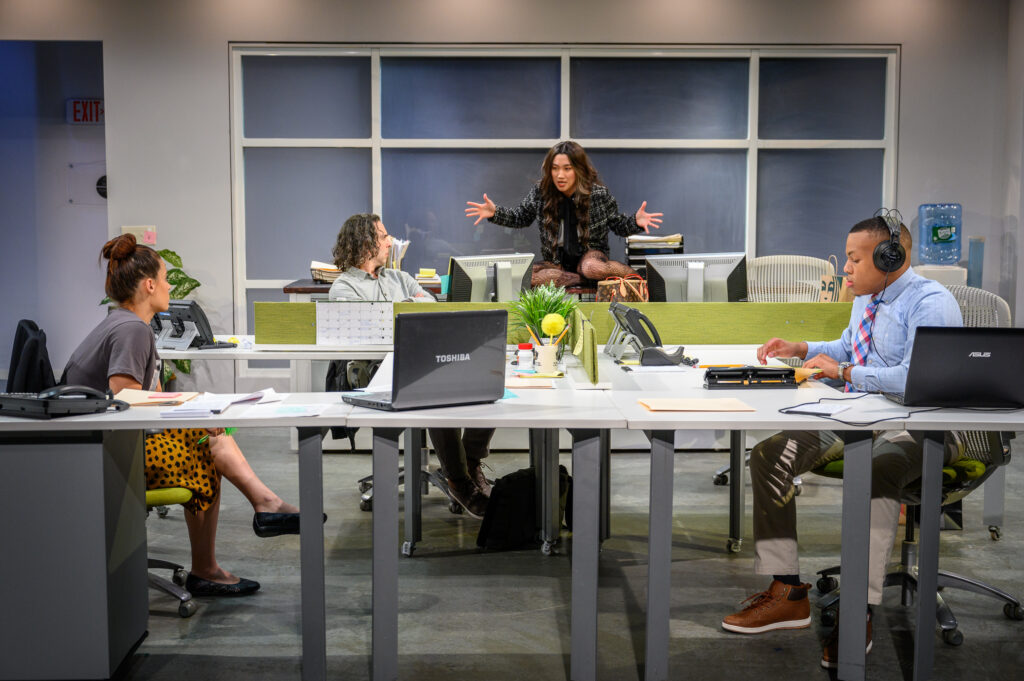 by Shelley A. Sackett
'Gloria' takes us on a ride inside the rollercoaster that is the essence of a 2010s Manhattan cultural magazine's editorial assistant bullpen subculture. (Its playwright, Branden Jacobs-Jenkins, worked at The New Yorker for three years). These players are unapologetic and clear about their singular goal: to leave their dead end stepping-stone jobs, climb out of the low prestige depths of editorial assistantship and secure a book deal before turning thirty. Each is constantly on the backstabbing prowl in search of that tipping point moment that will catapult them out of their murky office pit.
Reminiscent of the long-running television hit, "The Office," the first act of 'Gloria' is an entertaining mash-up of deadpan humor, smart and provocative language and near slapstick-caliber physicality. The dialogue is full of wit, sarcasm, social commentary and sharp insight, delivered at breakneck speed. Competitive malice is the glue that binds these folks; shredding insults is their common language. No one is happy and no one is to be trusted, from the Harvard intern (Miles) who wears headphones as a decoy to the jaded almost-30 closet memoirist (Dean), the acid-tongued spoiled shopaholic narcissist (Kendra) and the spiritually eviscerated factchecker (Lorin) and over-educated, underpaid receptionist (Ani) .
Yet, in their individual and collective ways, this motley crew of wannabes somehow endears themselves as they bare their fangs, souls and vulnerabilities. They become like family — with all its good, bad and ugliness —and we accept and appreciate the way they unapologetically let it all hang out. Bryn Boice's thoughtful and affective direction exposes their naked underbellies, yet still elicits our caring and empathy.
Into this mix enters Gloria, a pathetic and classic spinster loner who has dedicated her life to the magazine. An editor, she is the butt of more than one cruel joke and the object of the bullpen's venomous envy. The night before, she threw herself an extravagant birthday party, complete with DJ and catered food. She invited the entire staff of the magazine; only one editorial assistant showed up, adding salt to an already unhealable wound.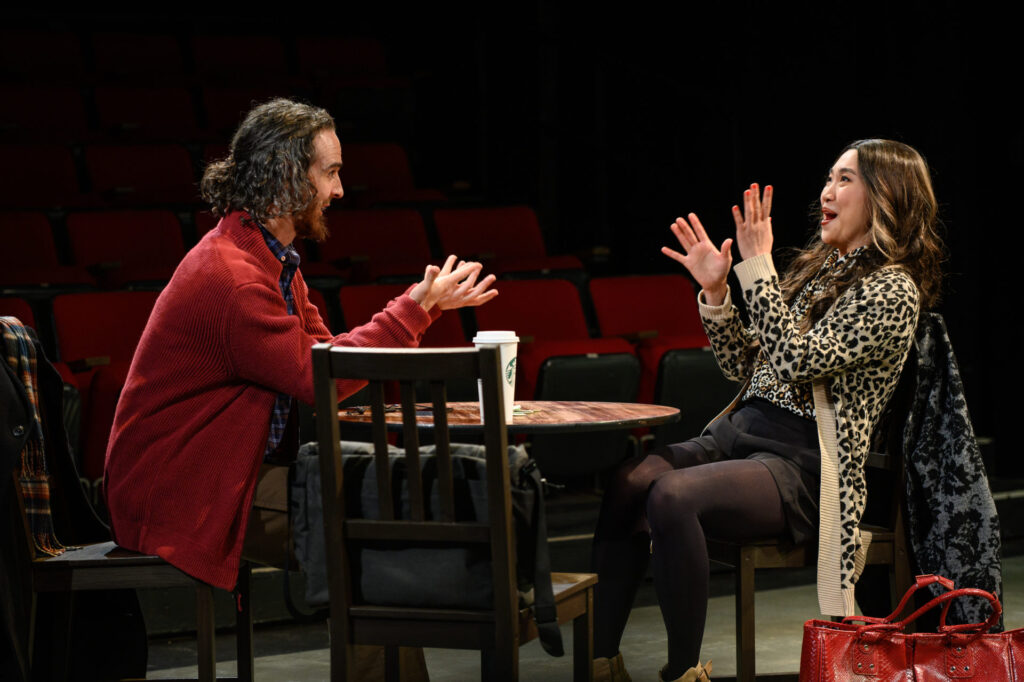 The repercussions of this slight go beyond hangovers and lame excuses, but it would be truly criminal to reveal what they are. Suffice it to say that Act I's ending guarantees that no one is likely to leave during intermission.
Act II shifts gears so dramatically the audience is at risk of whiplash. Eight months later, the same characters are still front and center, but as individuals leading separate lives away from the magazine. All are dealing with the aftermath of a shared trauma that each exploits their own way. Gone is Jacobs-Jenkins' spicy, electric-paced dialogue, replaced by the dull and relentless thrum of boundless, humorless ambition.
Jacobs-Jenkins does not hide the ball. His message — that we live in an age of exploitation that has no bottom — weighs heavy and depressingly without the fleet-footed wit he brought to his first act, and it's a weary audience that welcomes the play's end.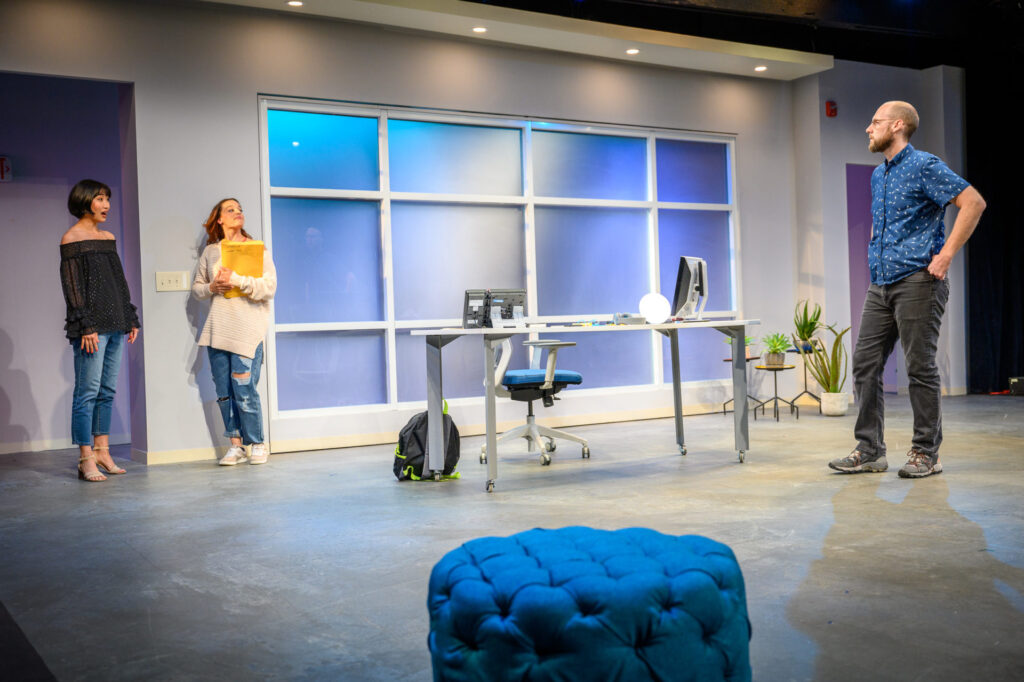 Despite an uneven script and inconclusive ending, Gloucester Stage's production is definitely worth seeing. Small touches add a lot. Props such as Asus and Toshiba laptops (remember those?) and a sound track of J. S. Bach: Mass in B minor ground us in the moment. The cast is terrific, and does its best to articulate Act I's rapid-fire monologues clearly (strong standouts are Michael Wood as Dean and the talented Teresa Langford as Ani; Michael Broadhurst's meltdown as Lorin gives Peter Finch's classic "Network" stiff competition). Esme Allen brings an unpretentious ease to Act II's Nan. And Boice misses no chance to add meaningful touches; under her direction, even changing sets becomes an opportunity for whimsical choreography.
'Gloria,' a Pulitzer Prize finalist in 2016, raises important issues for this era of continuing confusion and division over what constitutes news and how it should get disseminated. Should writers only create their own stories, or is it okay to co-opt someone else's? Whose story is a shared event to tell and who decides what the "true" version of that story is? What are the differences between storytelling as catharsis, opportunism and exploitation and does it even matter anymore? Do those lines still exist?
Perhaps Lin-Manuel Miranda summed it up best in his peerless "Hamilton" when he wrote, "You have no control, Who lives, who dies, who tells your story."
'Gloria' — written by Branden Jacobs-Jenkins. Directed by Bryn Boice. Scenic Design by Jeffrey Petersen; Costume Design by Rachel Padula-Shufelt; Lighting Design by Aja M. Jackson; Sound Design by David Remedios. Presented by Gloucester Stage Company, 267 East Main St., Gloucester through June 26.
For more information and tickets, go to: https://gloucesterstage.com/