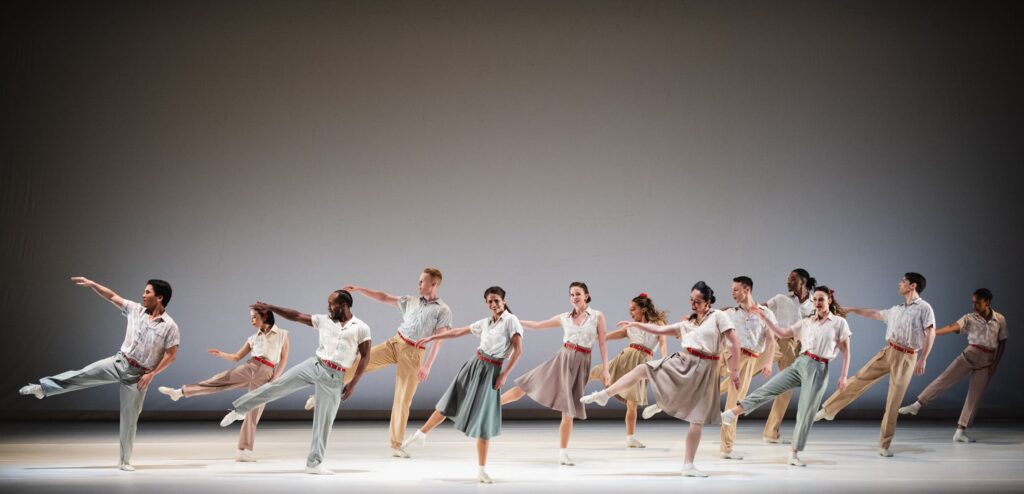 By Shelley A. Sackett
Paul Taylor, whose imagination, emotional breadth and sheer physical ability helped shape and define the purely American art form known as modern dance, never fails to amaze and enchant. The thunderous opening night applause from the standing audience shows that, if anything, the company has only increased its seductive power over its Boston fans.
The three pieces (two by founding Artistic Director Paul Taylor), separated by intermissions, provided an evening of athletic exuberance and emotional depth, choreographer Taylor's trademark, as well as the unabashed joy of the opening number, Amy Hall Gardner's "Somewhere in the Middle," a fun and sassy piece set to a selection of classical jazz music.
The evening opens on Donald Martiny's jazzy set of textured paint squiggles hanging against a black backdrop. Count Basie's toe-tapping music sets the mood for the ensemble to burst onto the stage, clad in Mark Eric's yummy pastel costumes (briefs and bras overlaid with sheer, shimmering fabric). They tumble, leap, roll on the floor with nymph-like speed and charm, matching Ella Fitzgerald's famous scats and bends with fancy foot and arm work.
Gardner's piece makes excellent use of the ensemble while also allowing for individual dancers to grab the spotlight. A pas de deux slows things down, the romantic couple engaging in what my companion referred to as the "hunt" of search, attract, repel and retreat. Softer lighting (by the talented Jennifer Tipton) and sexier movements complement the darker, more fitted costumes.
Nonetheless, the overwhelming effect of this selection was of sweet, campy, happy couples who danced their way through dream-like vignettes.
Taylor's "Brandenburgs" sets an entirely different tone. Johann Sebastian Bach's Brandenburg Concertos nos. 6 and 3 are from the Baroque era, that period that bridged the Renaissance, with its emotional reawakening, and the Classical era with its return to the staid and formal values of antiquity.
Taylor and costume designer Santo Loquasto reflect the formality and romanticism of this refined early eighteenth century time.
The curtain lifts to a sculptural tableau reminiscent of the figures atop the piece's namesake gate in Berlin. Slowly, subtle lighting shifts to reveal three women (muses?) and a man (Apollo?) standing in a circle of five male dancers.
The costumes are bejeweled and traditional, regal and lovely but, compared to the other two pieces, uptight and unexciting. The choreography is likewise dignified and constrained. Under Tipton's thoughtful lighting, the dancers' skin is luminescent, glowing in silhouette against a matte black backdrop. They shimmer in what feels like slow motion, capturing the sheer genius of Taylor's talent at spinning breathtaking magic from simple hand gestures.
With the final piece, Taylor's "Company B," the evening is back to its opening cheeriness, albeit with a layer of complexity and subtlety not present in Garner's work. Set during Second World War time, the mood is established by a soundtrack of songs sung by the Andrews Sisters meant "to express typical sentiments of Americans during WWII." Crafted as a series of interconnected sketches, the dancers shine both collectively and individually.
Loquasto's costumes are nothing short of adorable. White anklets and sneakers, red belts (for men and women), rolled up button down shirts, wide khakis and twirling skirts feel sock hop cute. The youngsters flirt, smooch and jitterbug, ponytails and skirls flying.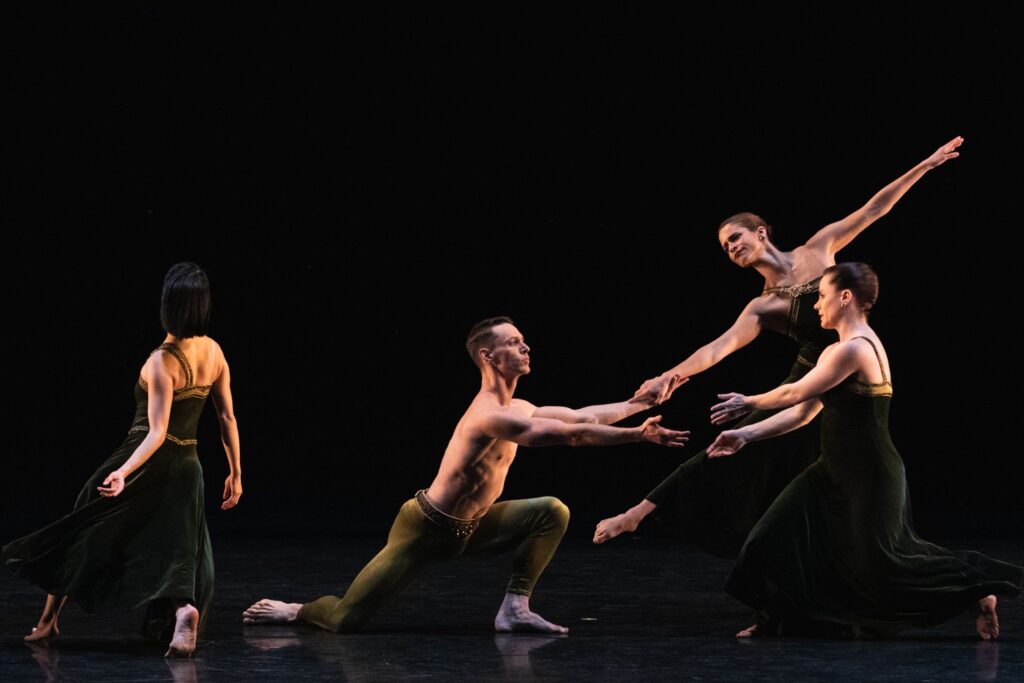 Taylor also conjures up a sense of the darkness of the times. There are silhouettes of men marching to war, couples uncoupling and lovers abandoned. This is a gorgeous, multifaceted and complicated piece, rendered sublime by the gifted cast of dancers.
The highlights are the eight solo numbers, which finally give the audience a chance to appreciate the individual personalities of some of the dancers. All shine, but there are three true stand outs. Alex Clayton is the mannerly guy next door in "Tico, Tico" until he is not. John Harnage, in Boogie Woogie Bugle Boy (of Company B), lights up the stage.
But the real show stopper (who pops in every piece, even when she is one of many in the chorus) is Madelyn Ho in "Rum and Coca-Cola." Spritely, impossibly lissome and exquisitely cute, it is difficult to look away from this beguiling dancer.
Even if modern dance isn't your "thing," don't miss the magic of this high caliber, delightful and uplifting performance. There's still time!
For tickets and information go to: https://www.celebrityseries.org/productions/paul-taylor-dance-company/
Paul Taylor Dance Company – Artistic Director Michael Novak; Founding Artistic Director – Paul Taylor; Resident Choreography – Lauren Lovette; Lighting Designer – Jennifer Tipton; Costume Design – Donald Martiny; Costume Design – Mark Eric and Santo Loquasto. Presented by Celebrity Series of Boston at Boch Center — Shubert Theatre, 265 Tremont St., Boston, through April 16.