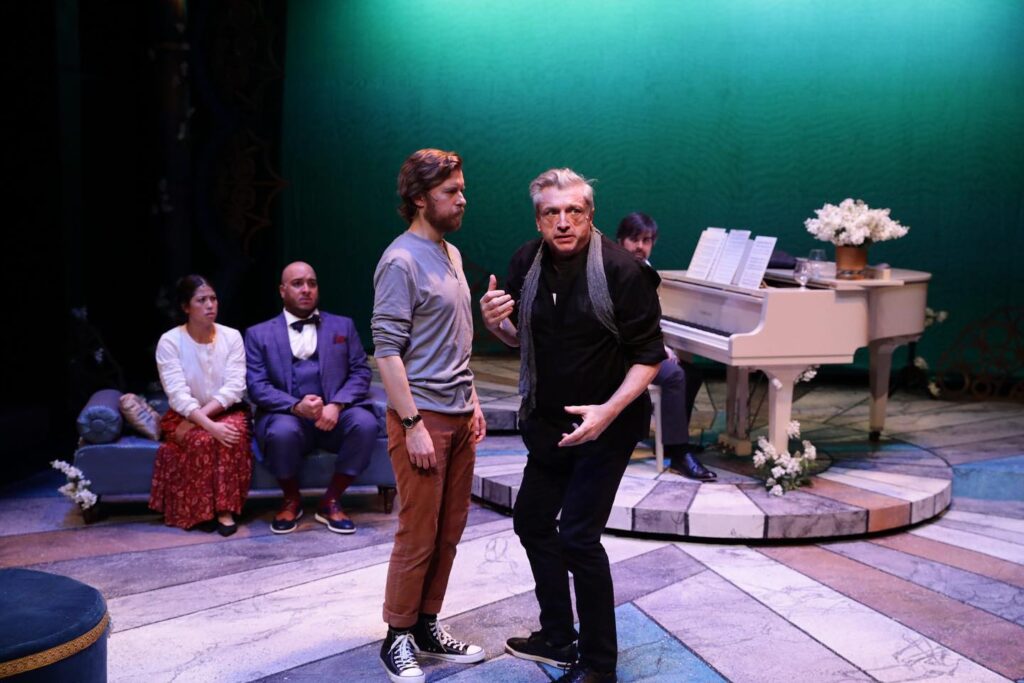 by Shelley A. Sackett
I readily admit I am one of those theatergoers who enjoys plot, dialogue and purpose. You can throw in all the special effects, time warp gimmickry and non sequiturs you want, but they are the icing, not the cake. You can give me experimental, but don't leave out the context.
So it took me some time to figure out exactly what was going on in 'Preludes.' In fact, it took me until intermission when I both googled a synopsis and read the playbill's fine print.
The setting of Dave Malloy's mash up of musical and drama is inside the mind of Russian composer Sergei Rachmaninoff. The play opens in 1900 Moscow. "Rach" (Dan Prior) is having a bad day. In fact, he's had a bad three years' worth of bad days, starting with the ruinous premiere of his "First Symphony." Critics viciously panned the piece (and the drunk conductor), leaving Rach in a creative void, wondering if he would ever write again.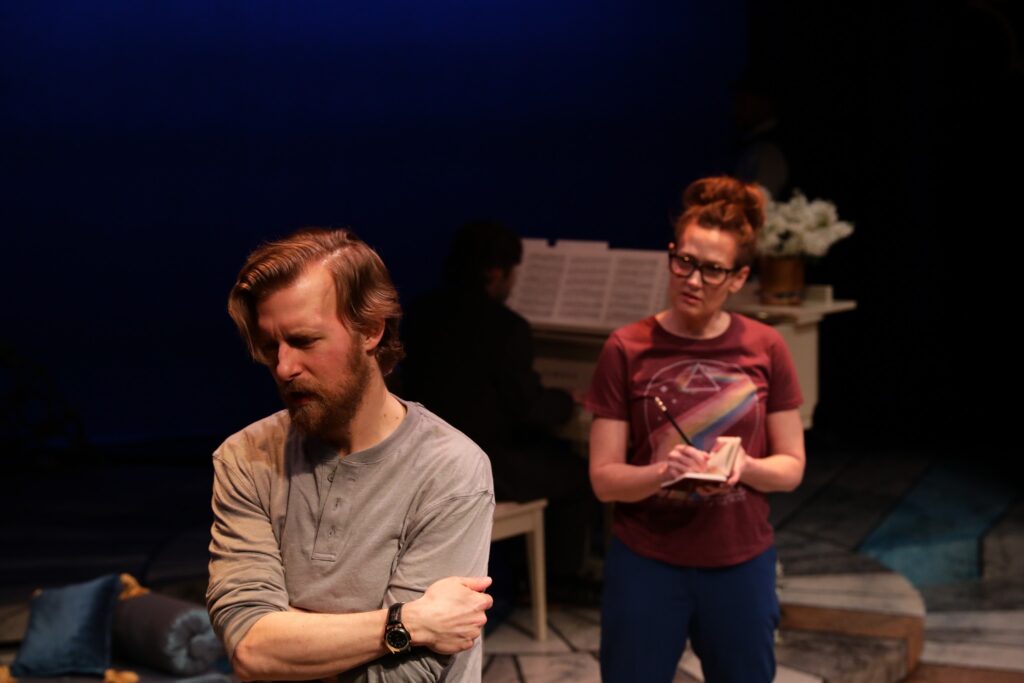 He also fears that his wildly successful "Prelude in C-sharp Minor," which he wrote as a 19-year-old, was the sum total of his career. Does he have talent or only luck? Was that the best piece he will ever pen? And most importantly, how did he do it?
At the urging of his frustrated fiancée, piano teacher Natalya (Kayla Shimizu), Rach visits hypnotherapist Nikolai Dahl (Aimee Doherty) for help clawing his way out of this black hole of asphyxiating self-doubt and paralyzing writer's block. Dahl puts him into a trance and, with the audience in lock step, Rach takes a tour of every trauma that paved his path to the present.
Although this is no yellow brick road, the journey is peppered with its own version of winged monkeys, wicked witches and ruby red shoes. People float in and out of Rach's internal world of jumbled stream of consciousness and disorienting ordeals. Chekhov Tchaikovsky and Tolstoy (all played by the always fabulous Will McGarrahan) show up, offering varying degrees of encouragement and torture. Where does art come from? they ask unhelpfully.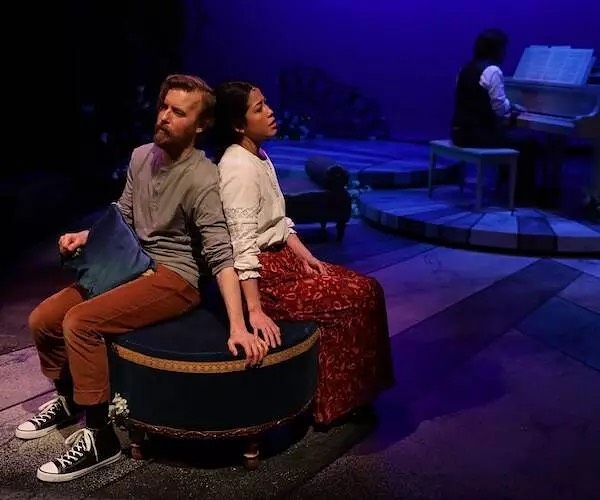 Against the gossamer confusion of Rach's mind are shimmering tidbits of actual plot. His impending marriage to his first cousin Natalya requires the permission of the Czar, and the two discuss and plan their audience with him. Rach's personal and professional struggles are likewise real and earthbound.
And then there is the brilliance behind Malloy's use of music and musicians as integral parts of his theatrical vision. A Liberace-worthy white piano occupies center stage. Dan Rodriguez (also Musical Director), in formal attire, plays a combination of Rachmaninoff, Malloy and Rachmaninoff/Malloy hybrid pieces throughout the two hour (one intermission) production. (Thank goodness the volume was lower during the second act. It drowned out the actors during the first half, adding to audience frustration).
A heartbeat like rhythm is a cloud cover for the stage. The use of classical, electro-pop and musical loops lend an excitement and wildness. The 13 musical numbers give Malloy and the actors a chance to show their musical chops. Every duet is resplendent, especially those with Prior and Shimizu. Anthony Pires, Jr. is a showstopper as Chaliapin, his movements as lithe as his baritone is full-bodied.
Although 'Preludes' floats in the metaphorical ephemeral, it also celebrates Rachmaninoff's music, legacy and determination to find his own creative agency. Malloy and Lyric Stage Company have given us an opportunity to expand our theatrical horizons, loosen the reins and just go with the flow, and for that we thank them. For more information and tickets, go to: https://www.lyricstage.com/show-item/preludes/
'Preludes' — Music, Lyrics, Book and Orchestration by Dave Malloy. Directed by Courtney O'Connor; Music Direction by Dan Rodriguez; Scenic Design by Shelley Barish; Costume Design by Rachel Padula-Shufelt; Lighting Design by Karen Perlow; Sound Design by Andrew Duncan Will. Presented by The Lyric Stage Company of Boston, 140 Clarendon St., Boston through February 5.