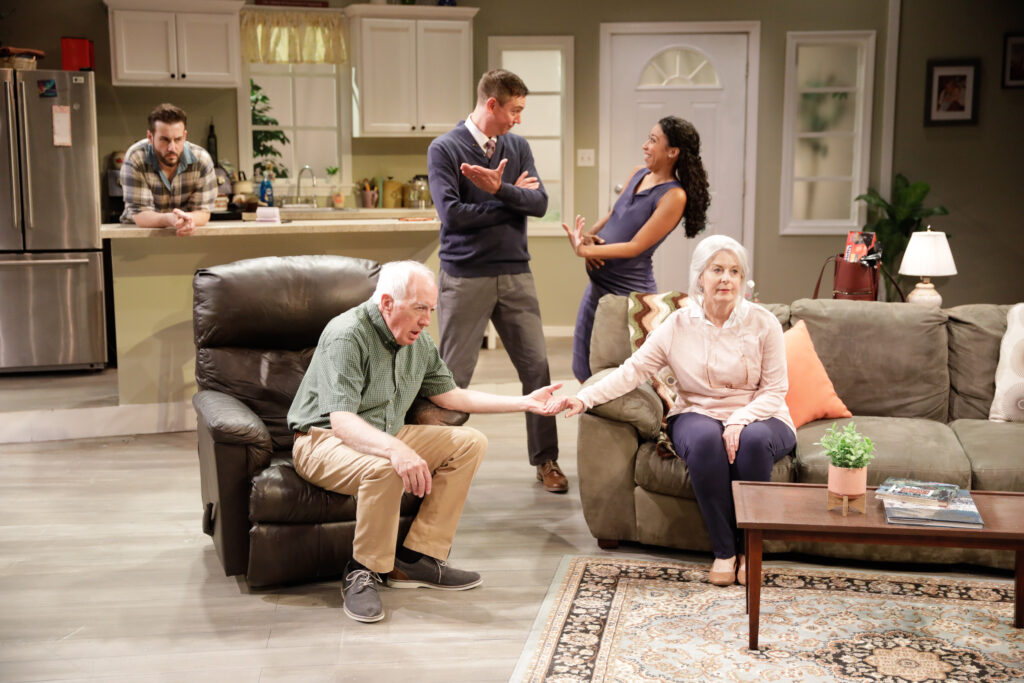 by Shelley A. Sackett
Nancy and Bill (played by real life spouses and stellar actors Paula Plum and Richard Snee) are introduced in their cookie cutter split level house as they go about their chores preparing for dinner. Silently and robotically, they perform their choreographed rituals. Bill sets the table; Nancy dishes out the food. Is this a couple so in sync after so many years that they don't need to talk or is each seething with rancor just below their calm demeanor?
Finally, Nancy speaks. "I think I would like a divorce," she says matter-of-factly. "All right," Bill responds.
With all the subtlety of a network TV sitcom, their thirty-something sons, Ben (Jeremy Belize) and Brian (Greg Maraio) burst through the front door of their Grand Horizons independent-living home, outraged and sputtering about their parents' obligation to stay together for the sake of the kids, especially since they're almost dead anyway. "You're almost 80. How much else even is there?" asks the stereotypical and bossy first-born Ben. Brian, the self-absorbed, whiny, indulged "baby," just wants the nest he grew up in and never really left to remain intact.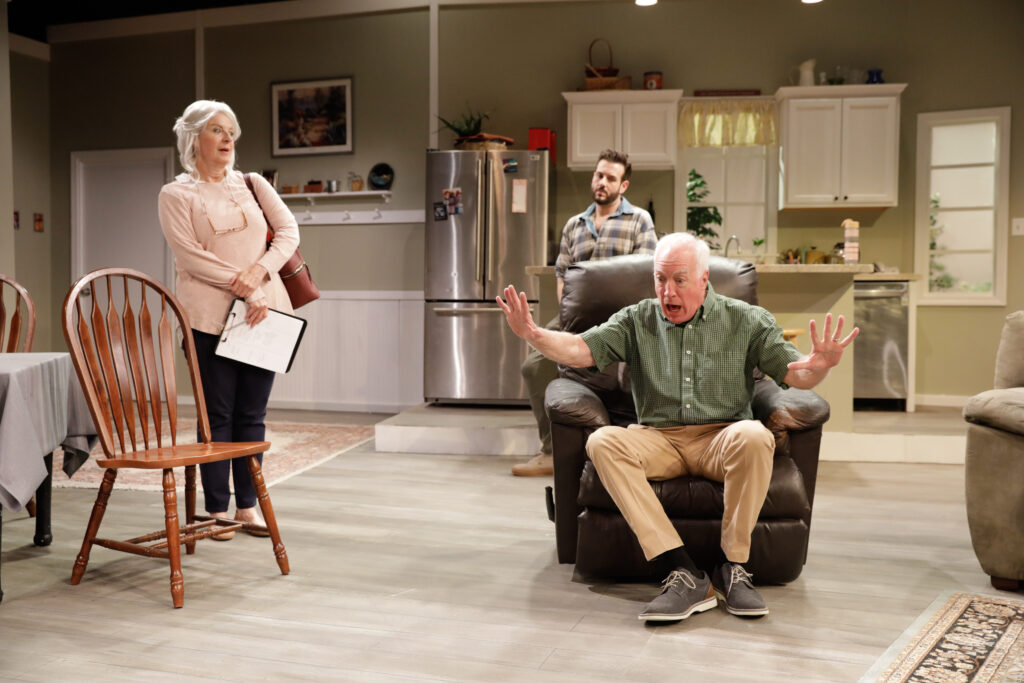 Nancy, a retired librarian, has other ideas. After a loveless marriage, she feels like time is running out. "I want to be seen, praised and appreciated," she says. She also wants to change the role she plays with her sons from their caregiver to adult peer. "You have to hear this," she tells a resistant Brian as she reveals details of her intimate life he would rather not hear. "I will be a full person to you."
For his part, Bill just wants to tell a decent joke and to that end has enrolled in a comedy class at the recreation center. A grump with questionable timing, his future as a stand up comic is less than assured.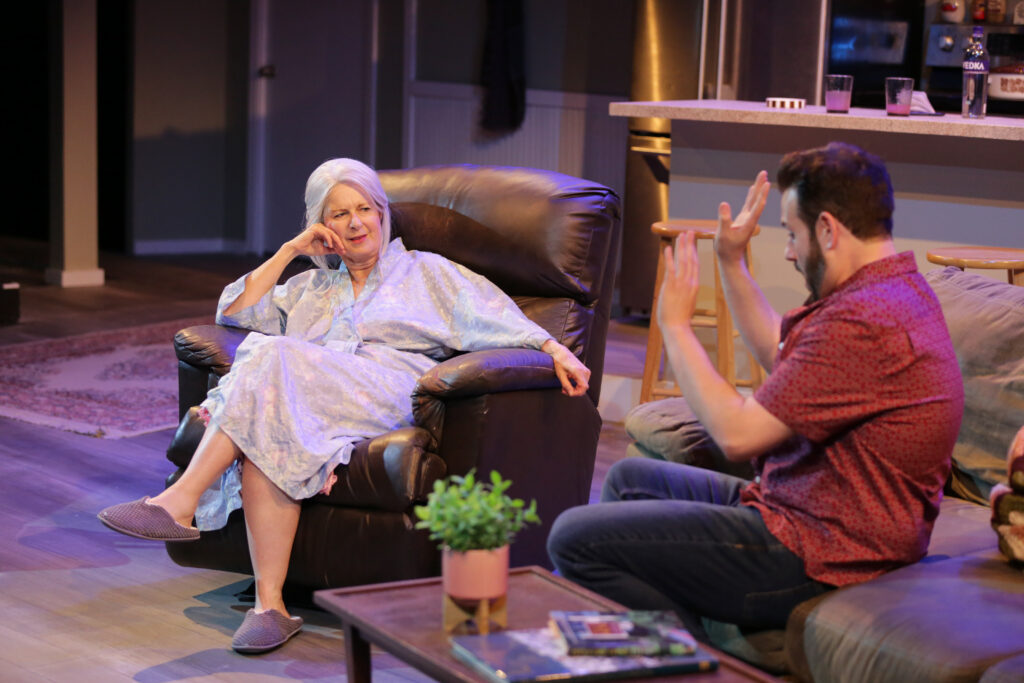 The remainder of the two hour (including intermission) production examines what happens to this family when its foundation cracks. The sons rant, rave and pout in a cardboard two-dimensional orbit. Ben's wife, Jess (Marissa Stewart), a caricature of a touchy-feely therapist, urges her in-laws, who were never physically close, to begin the healing by holding hands. The "kids" prefer their la-la land of denial to facing the mature realities and responsibilities of adulthood. Their parents' actions are a shot across the bow of their own lives they are unable to appreciate.
Nancy and Bill are written with more complexity and their calm acceptance and assessment of life's vicissitudes is a welcome respite from the slapstick, hit-or-miss dirty jokes and gratuitous gay romp scene. Plum's comedic physicality is understated (the sandwich scene is a knockout) and her verbal timing and intonation are, as always, impeccable. Snee brings a relaxed and easy calm to Richard, letting his softer and more vulnerable side quietly seep through his hardened, gruff exterior.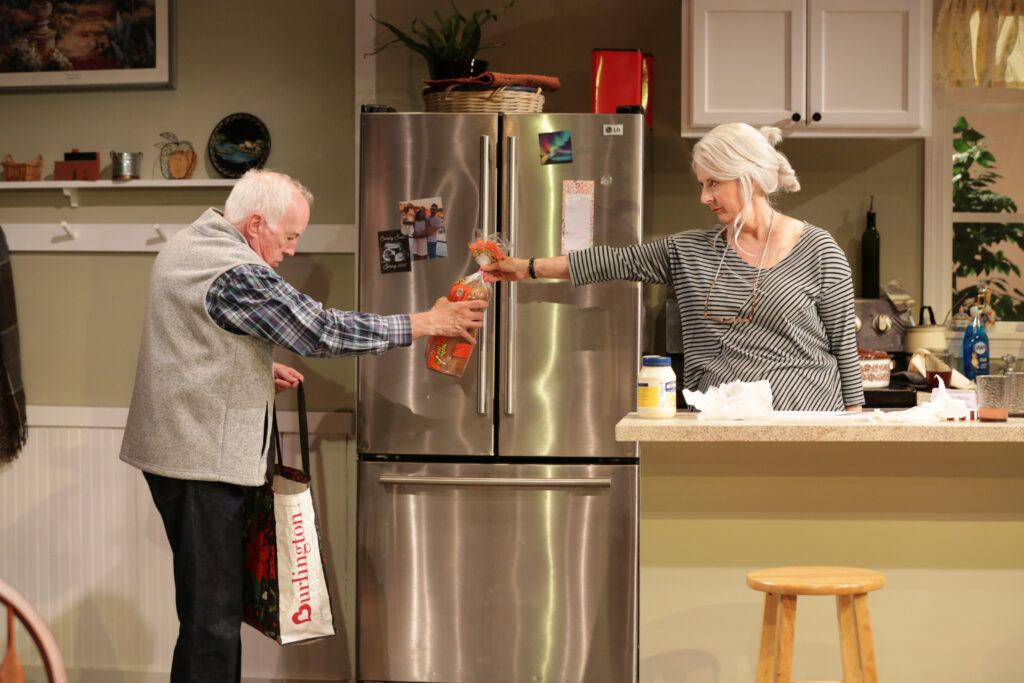 It is through them that Wohl asks the big ticket questions she wants us to consider: What is a "great" marriage? When (if ever) does a couple's duty to sacrifice their own happiness and stay together for the sake of their kids shift? At what point do parents have a responsibility to treat their children like the adults they are and force them to grow up and stand on their own two feet? Is it ever too late to shift gears and change the course of a life-long marriage?
And, perhaps most important, what exactly is love?
Although the play at times seems to wander in search of its genre, Wohl's underlying messages, the terrific Plum and Snee and a killer ending to Act I save the day. For tickets and information, go to: https://gloucesterstage.com/
Written by Bess Wohl; Directed by Robert Walsh; Scenic Design by Jenna McFarland Lord; Costume Design by Chelsea Kerl; Lighting Design by Anshuman Bhatia; Sound Design by Dewey Dellay. Presented by Gloucester Stage through August 21.