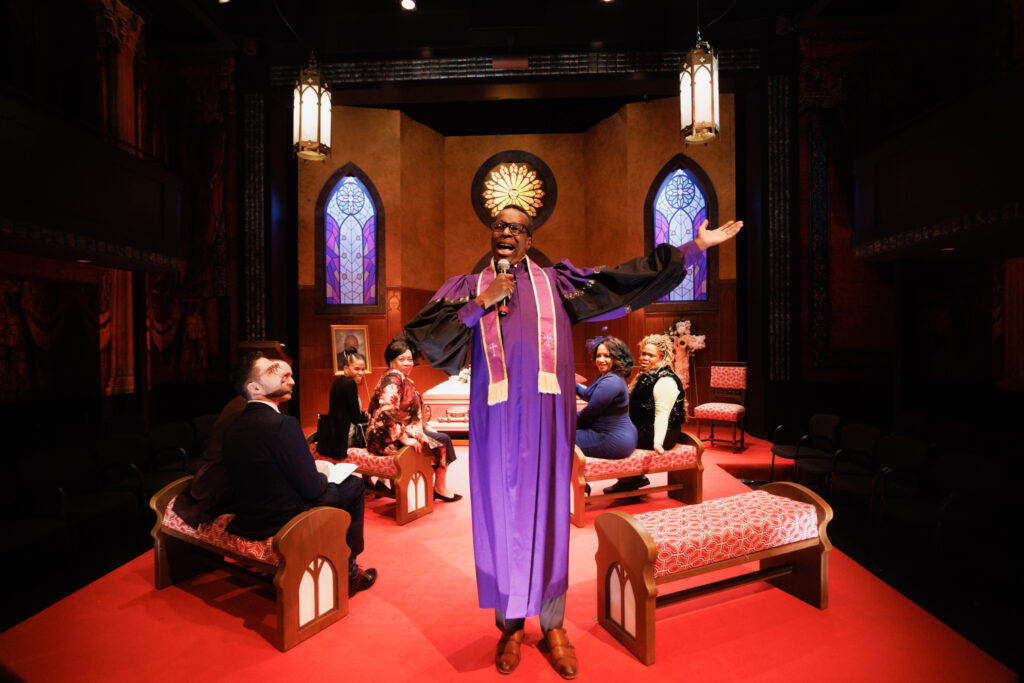 By Shelley A. Sackett
The architectural bones of Suffolk University's Modern Theater are a set made to order for 'Chicken & Biscuits,' the first solo production by The Front Porch Arts Collective, a Black theater company whose previous presentations have been in collaboration with other larger companies.
With its dark wood pews and balconies and Cluny-esque murals, we feel like part of a congregation even before the setting shifts from Reverend Reginald and Baneatta Mabry's New Haven home to the sunlit church where Reginald will preside over the funeral of revered Pastor Bernard ("B") Jenkins, his former father-in-law.
The play opens in the Mabry home, with Baneatta and Reginald preparing to attend Bernard's funeral. Baneatta sits alone, having a private tête-a-tête with God, with Whom she is on intimate and joking terms. Within easy eavesdropping distance, the audience gets the lay of the land. All is not peace and love between Baneatta and her younger sister, Beverly, who buttoned-up Baneatta describes as a wild woman. The two have not seen each other in a while and, based on that most recent encounter, Baneatta anticipates the worst.
Reginald comes downstairs, interrupting Baneatta's conversation. With B's passing, Reginald inherited his pulpit. Bernard's funeral is his first lead sermon in this new role, and he's as nervous as his wife, but for different reasons. B was the glue that held both family and church together, leaving Reginald with pretty big shoes to fill. That his opening act will be B's eulogy is daunting enough without the threat that the two rivalrous sisters will be at each other's throats.
"Today should be a day of memory and healing for the family, not chaos," he reminds Baneatta, offering her the chance to talk.
"I already talked about it with Jesus," she replies, to her husband's visible relief.
The scene shifts to Beverly and her 15-year-old daughter La'Trice as they get ready for the funeral, and we immediately understand the Mabry's trepidation. Beverly is smoking a cigarette in her nonsmoking hotel room, defiantly blowing the smoke out an opened window. She is as brazen, brassy and flamboyant as Baneatta is proper, reserved and patrician. She is a spitfire to be reckoned with and she is also VERY loud.
For her father's funeral, she has chosen a sausage-casing tight and revealing blue lounge singer dress and rhinestone studded belt and stilettos (Costume design by Zoe Sundra) . Even her aspiring rapper daughter, dressed in raggedy chic hip hop, asks if she maybe should tone it down a bit. Beverly will hear none of it. This funeral is a celebration, she says; and besides, there may be some good husband hunting to be had.
Rounding out the family are Kenny, Reginald and Baneatta's gay son, and his sister Simone. Kenny has brought his white, Jewish partner Logan to the funeral, hoping that his mother and sister will finally accept him for who he is, as his grandfather did. Simone, unlucky in love and as serious and perfection-obsessed as her mother, is nursing a recently trampled heart, searching for her lost self-esteem.
There is also a shadow lurking in the wings, a mysterious series of phone calls from someone Baneatta does not want to hear from, especially not on the day of her daddy's funeral. (No spoilers here!)
As the family gathers, each member's backstory is exposed, along with their strengths and Achilles' heels. The conversations leading up and after the funeral service are meaty and thought-provoking. La'Trice confides in Simone that she wonders if she would have turned out a different person if she had known her father, whom she has never met. Simone confesses to Kenny that after her Black boyfriend dumped her for a white girl, she stopped eating for three months. "I can't understand why God would want me to hurt this way," she tells him.
For his part, Kenny wants to be open and accepted, something his mother and sister have refused to do. "A life style is something you choose. My sexuality is who I am," he explains to Simone. "How do you find yourself while you're trying to hide yourself?"
While the family may present as dysfunctional and unhealable, Reginald's brilliant eulogy and each member's parting words show how much their father and grandfather touched each of their lives. "You weren't perfect, but you loved us perfectly," Baneatta shares.
The play, however, and especially this production, is a lot more than somber reflections on family dynamics. God, shame, love, loyalty, joy, secrets and empathy are all given their moment in the sun.
It is also a hilarious dramedy with a script full of belly laughs. When the mysterious caller shows up at the funeral, a slow-motion meltdown of destruction set to a Rap song ensues. Thanks to Lyndsay Allyn Cox's direction and her talented cast, there are also engaging performances all around. Robert Cornelius brings his honeyed baritone and charismatic presence to the role of Reverend Reginald Mabry. Jacqui Parker plays Baneatta with grace, gravitas and soul. She is the cornerstone of 'Chicken & Biscuits,' and Parker commands the stage, grounding and centering the play from start to finish.
Thomika Bridwell gives it her all — and then some — when playing the irrepressible side of Beverly, but truly shines when modulating and portraying her quieter, more contemplative counterpart.
Lorraine Kanyike brings a freshness to La'Trice, and Adrian Peguero and Sabrina Lynne Sawyer stand out as siblings no longer rivalrous. But it is Mishka Yarovoy who chews up the scenery as Logan, Kenny's neurotic Woody Allenesque partner whose spot on physical comedy is matched by his impeccable timing.
Erik D. Diaz's economical and effective set magically transforms the Mabry home into a church by removing of a few panels to replace windows overlooking a tree-lined street with stained glass panes. M. Berry's lighting design and Anna Drummond's sound design complete the effect.
By the end of the one hour and 45 minute (no intermission) performance, the audience has bonded with this family and is ready to join them in their cathartic denouement of digging into chicken, biscuits and all the fixings, Bernard's favorite dinner. After all, we've been riding shotgun on the messy journey that pulled them apart. It's only fair that we share the glory too.
Chicken & Biscuits' — Written by Douglas Lyons. Directed by Lyndsay Allyn Cox; Scenic Design by Erik D. Diaz; Costume Design by Zoe Sundra; Lighting Design by M. Berry; Sound Design by Anna Drummond. Presented by The Front Porch Arts Collective at Suffolk University Modern Theatre, 525 Washington St., Run has ended.