By Shelley A. Sackett
Playwright LaDarrion Williams has cherry-picked a dramatic moment in history to explore in his well-crafted 'Boulevard of Bold Dreams.' The date is February 29, 1940, the night of the Academy Awards. The setting is Los Angeles' Ambassador Hotel bar, outside the grand ballroom where the awards will be presented.
Before the ceremony even starts, this year's Oscars have made history. Hattie McDaniel is the first Black actor to be nominated for an award. She is up for the Best Supporting Actress Oscar for her performance as Scarlett O'Hara's 'mammy' in the Civil War era blockbuster, "Gone With the Wind."
Working in the sumptuous Art Deco lounge (kudos to set designer Rachel Rose Burke) are Black employees Arthur Brooks (Stewart Evan Smith), a bartender, and Dottie Hudson (Michelle Fenelon), a chambermaid. The two banter as comfortably as rivalrous siblings. In the course of their intimate conversation, the audience picks up that they have been friends since they were two years old. Together, they left rural Alabama for Hollywood to follow their dreams. Dottie, a talented singer, is waiting for her big break. Arthur dreams of becoming a film screenwriter and director. He even has a title for his first project: 'The Boulevard of Bold Dreams."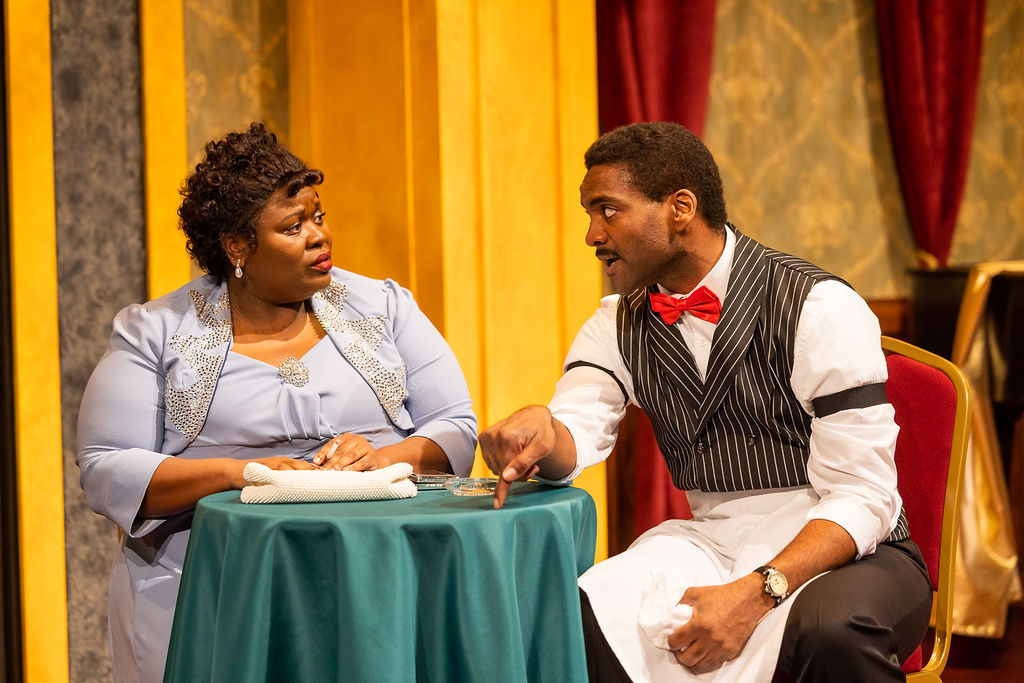 Their big dreams, however, run smack into the reality of 1940s California, where most working-class Blacks are relegated to subservient positions and racism is less violent but no less virulent than the version they lived with in Alabama. While waiting for their dreams to come true, they work day jobs they hate.
The silver lining is they work in the same hotel and get to hang out. A lot. They talk about everything under the sun. This evening, Hattie McDaniel is topic number one. The white hotel owner just directed Arthur to set up a table for her in the back corner of the theater, out of sight of the white guests. Allowing her in the hotel at all is a major concession in this whites-only establishment; sitting with her castmates would be out of the question.
The two debate the double-edged sword of the evening and whether McDaniel should attend or not. McDaniel's nomination for the movie industry's highest honor is a milestone breakthrough and achievement for Blacks everywhere. "She came out here with nothing but $50 and a dream. She's a credit to our race," Arthur says.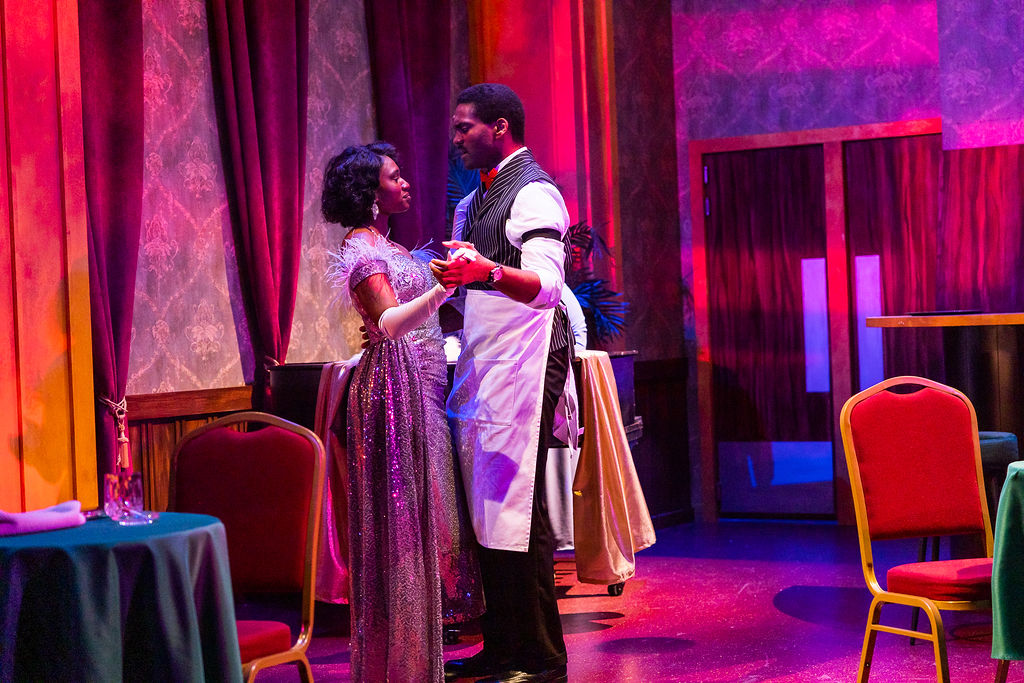 Dotty, on the other hand, thinks McDaniel should strike back at the white establishment that has used and abused her, and refuse to attend. Dotty chafes at the Mammy role that practically venerates slavery and has McDaniel "shucking and jiving for those white folk." On top of that, and most unforgivable, is the fact that McDaniel was not even allowed to attend the movie's premiere with her fellow castmates because it debuted at a whites-only theater in Atlanta.
Their hypothetical debate turns real when Hattie McDaniel (Samantha Jane Williams) herself wanders into the bar, seeking a moment alone while she wrestles with the very issue Dotty and Arthur have been discussing. For her, the matter is far more pressing. She has decided she won't attend the awards ceremony under her agent's conditions (the studio has even written her acceptance speech, not trusting her to speak on her own ). "What's the point if I'm not treated like a human being? All I want is to sit with my cast," she says sadly.
Arthur and Dotty have only minutes if they are to convince her otherwise.
McDaniel describes the negative reaction that has worn her down. Even the NAACP, criticizing the part as "a disgrace to colored folks," urged her to refuse the role. "My own worst enemy ain't the white folks. It's my own people," she explains.
Over drinks and stories of hardships and dreams, the three reveal their experiences with a racist system designed to keep them down. Arthur tries to convince McDaniel of the importance of the day for Blacks everywhere. Dottie ferociously attacks McDaniel for her part in perpetuating the myth of Blacks with her roles playing happy maids and slaves. She accuses her of being the worst kind of sell-out.
"I'd rather play a maid in the movies than be one in real life," McDaniel finally fires back. She takes on these maid roles with "pride and responsibility," she explains, as an homage to Black women and their sacrifices. She wants to show the human value of caregivers like her own mother, a former slave, who made a living mothering the children of a white family who acted like she didn't exist. "I took those roles for me. I'd play a thousand maids to show people my mother's worth," she says. "I made you see them. You know them now."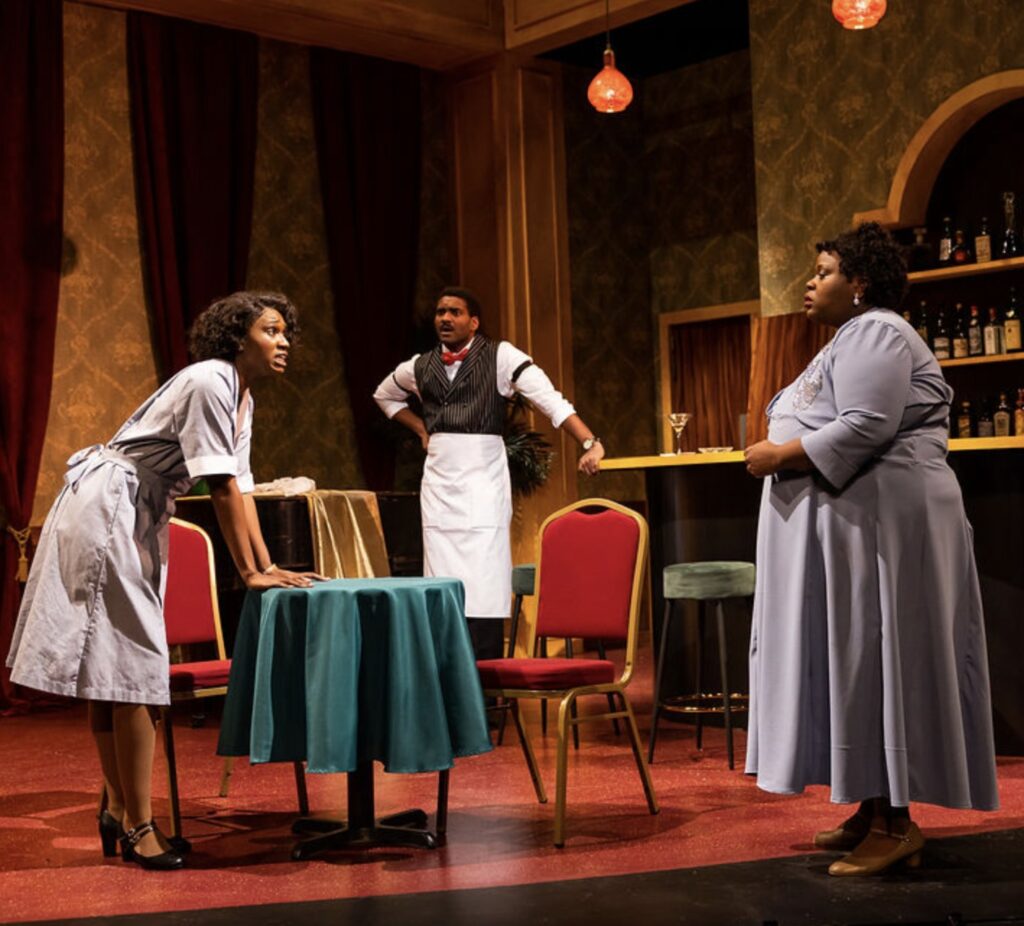 Eventually, McDaniel's ambivalence about attending the ceremony wanes. She attends and (no spoilers here) wins, beating out cast mate Olivia de Havilland. The show's closing scene projects her actual acceptance speech onto a vintage black and white TV along with speeches of ten Black actors who won Oscars since, a clever touch. Especially poignant is hearing Mo'Nique, best-supporting actress winner 70 years later for "Precious," declare, "I'd like to thank Miss Hattie McDaniel for enduring all that she had to so that I would not have to."
Williams' script does an excellent job of bringing us into the hearts and minds of his fictionalized characters while also conjuring up McDaniel's conflicted viewpoint. At 100 minutes (no intermission), the play both flows and informs. Yet, given the personal pain and humiliation that accompanied her trailblazing triumph, we can't help wondering how the real Hattie McDaniel, armed with 20-20 hindsight, might truthfully answer Dotty's question: Was it worth it?
'Boulevard of Bold Dreams' — Written by LaDarrion Williams; Directed by Taavon Gamble; Scenic Design by Rachel Rose Burke; Lighting Design by Corey Whittemore; Costume Design by Klara Escalera; Sound Design by James Cannon; Property Design by Emily Allinson. Presented by the Greater Boston Stage Company at 395 Main St., Stoneham, MA through March 19.
For tickets and information, go to https://www.greaterbostonstage.org/