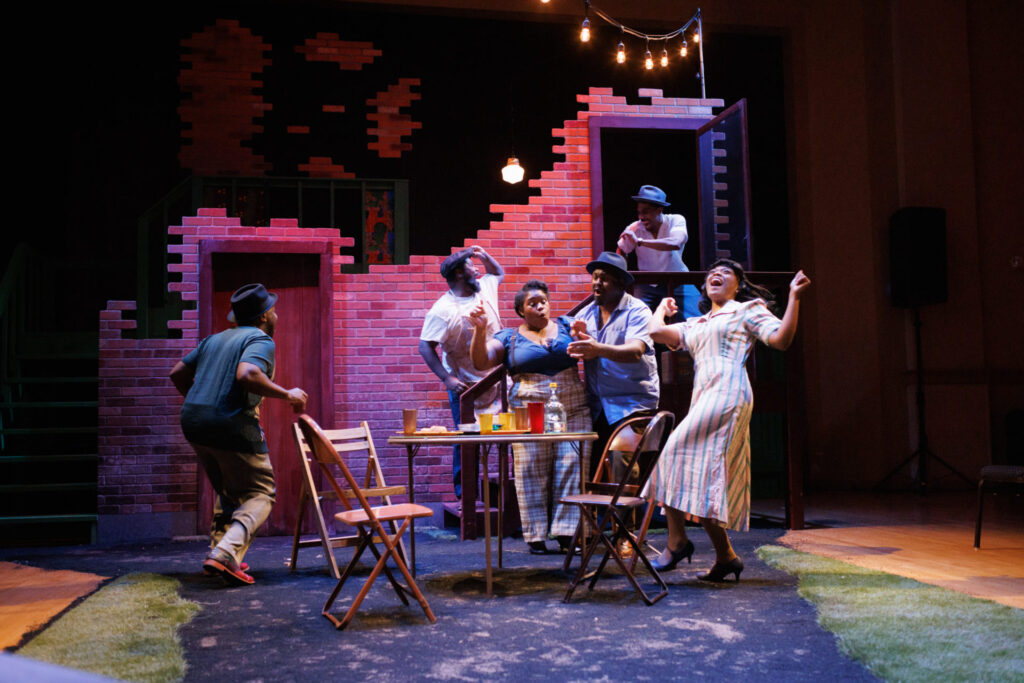 by Shelley A. Sackett
It's hard to know where to begin praising Actors' Shakespeare Project's production of August Wilson's 'Seven Guitars.' Jon Savage's urban backyard set, with its backlit city side panels, gardens, make-do furniture, and hints of multiple interior spaces, combines simplicity with depth. Amanda E. Fallon's lighting, Dewey Dellay's pitch-perfect musical compositions, and Abe Joyner-Meyer's toe-tapping sound design complete the immersive capsule. We are indeed time travelers to a 1948 rooming house in Pittsburgh's Hill District.
Maurice Emmanuel Parent's intimate and sensitive direction elicits a natural rhythm from the cast of seven first-rate actors who miraculously coalesce as an ensemble without diminishing their unique bright lights. And then, of course, there is Wilson's multi-layered, music-infused drama, with dialogue the actors imbue with lyricism and individuality.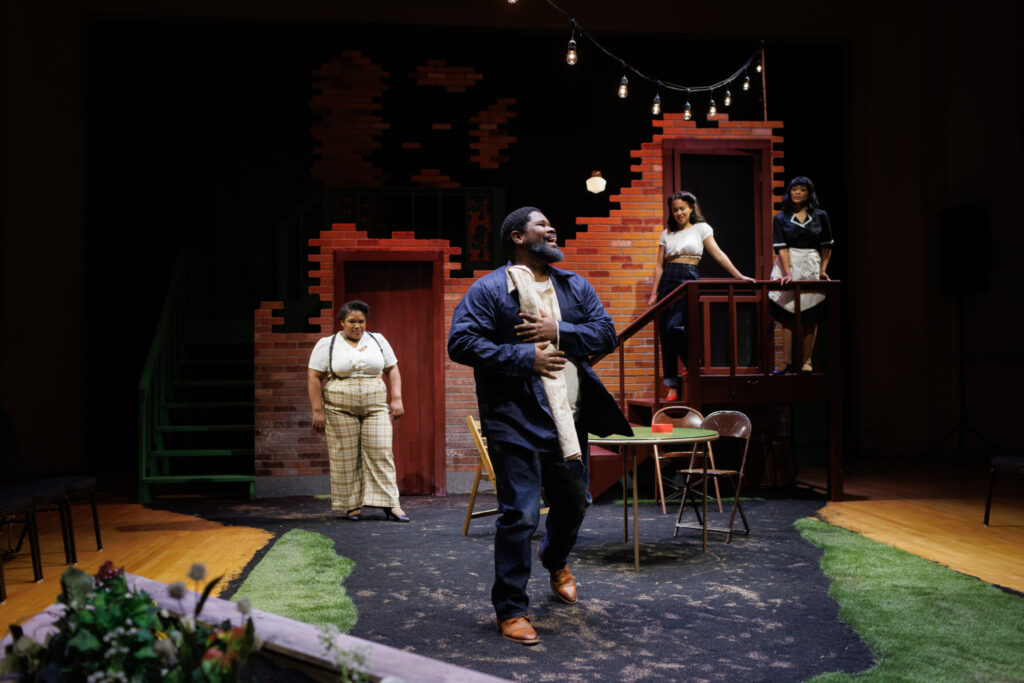 The play opens in the rooming house backyard right after the funeral of its main character, Floyd "Schoolboy" Barton, a young blues guitarist (played by the exceptional Anthony T. Goss) who was killed just as his dream of stardom was about to come true. His murder remains unsolved.
Wilson has a knack for gathering strangers, putting them under the same roof, and creating a convivial family unit through which a complete social picture materializes. Small talk is never small from this playwright. There is a living power that pulses with every word.
The solemn scene of mourning quickly turns playful, as we meet the residents and witness the warmth and ease with which they address each other. "He almost make it where you want to die just to have somebody talk over you like that," says Canewell (Omar Robinson), one of Floyd's musician friends and band sidemen, about the Reverend's eulogy.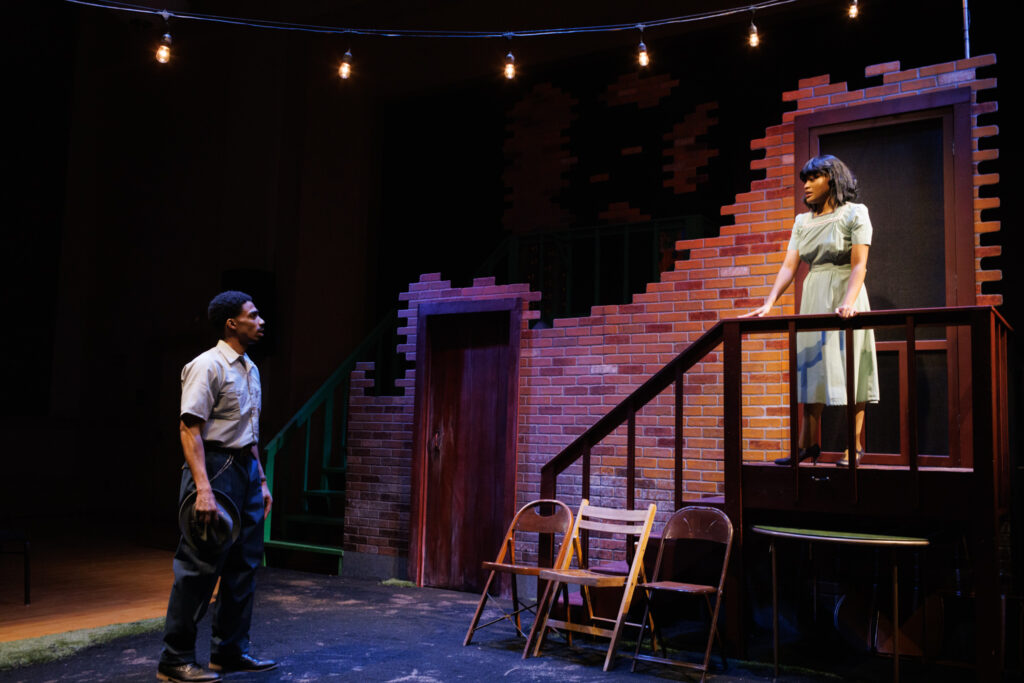 Vera (Maya Carter), Floyd's girlfriend, observes she saw six angels dressed in black carrying Floyd away into the sky. Louise (a spirited Regine Vital), the lively boardinghouse owner, her tenant, Hedley (Johnnie Mack), a Bible-thumping elder, and Red Carter (Dereks Thomas), another of Floyd's musician sidemen, round out the group. (Ruby (Valyn Lyric Turner), Louise's pregnant niece will arrive late in Act I. All but Louise also saw the angels whisk Floyd away.
From the get-go, the characters' quirks and reflections on life, loss, and the history and burden of being Black in white America pepper their conversations, bonding these folks in a natural and kindhearted way. Family, in all of Wilson's plays, is not defined by biology; it is defined by fate and choice.
The rest of the play is through flashbacks that retell the story leading up to and including, the murder. Floyd explodes onto the stage, freshly released from a 90-day stint in a workhouse detention and ready to kickstart his paused career and love affair with Vera. His plans to return to Chicago and pursue celebrity hinge on convincing Vera and sidemen Red and Canewell to return with him.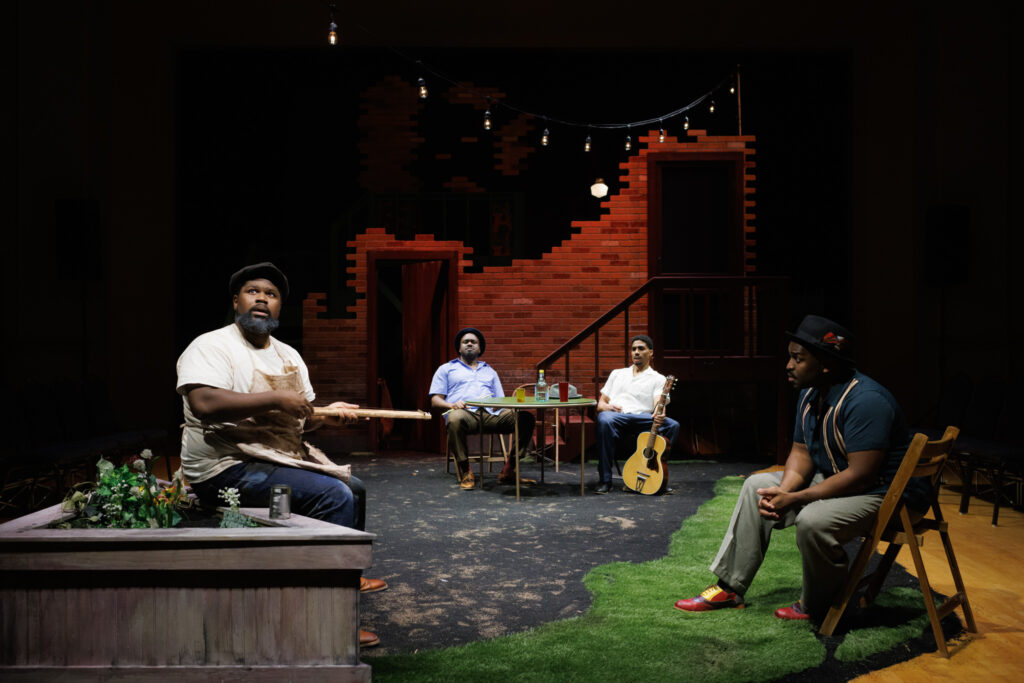 Floyd has an uphill battle on his hands. He left Vera for another woman when he went to Chicago the first time, and convincing her that he's on the up and up will take all the swagger and charm he can muster. Likewise his bandmates, who were burned by their first experiences in the Windy City and the wily ways of the white record industry.
While "Seven Guitars" satisfies its audience with a plot-driven narrative, it is through its seven characters and their conversations that Wilson's underlying messages surface. These seven are a microcosm of the ways in which racism and its oppressive economic and legal system have stacked the deck against the Black man. Yet, despite these shackles, there emerge layers of folklore, superstitions, family traditions, and shifting dreams that paint a broader, deeper social picture.
Wilson interweaves big ticket topics — male/female relationships, police brutality, the danger of being black in a white land — organically through his characters' conversations and monologues, giving each their moment in the spotlight. Even the occasional existential soapbox riff – thanks to Wilson's light and shrewd pen – blends naturally with banter about recipes and family histories.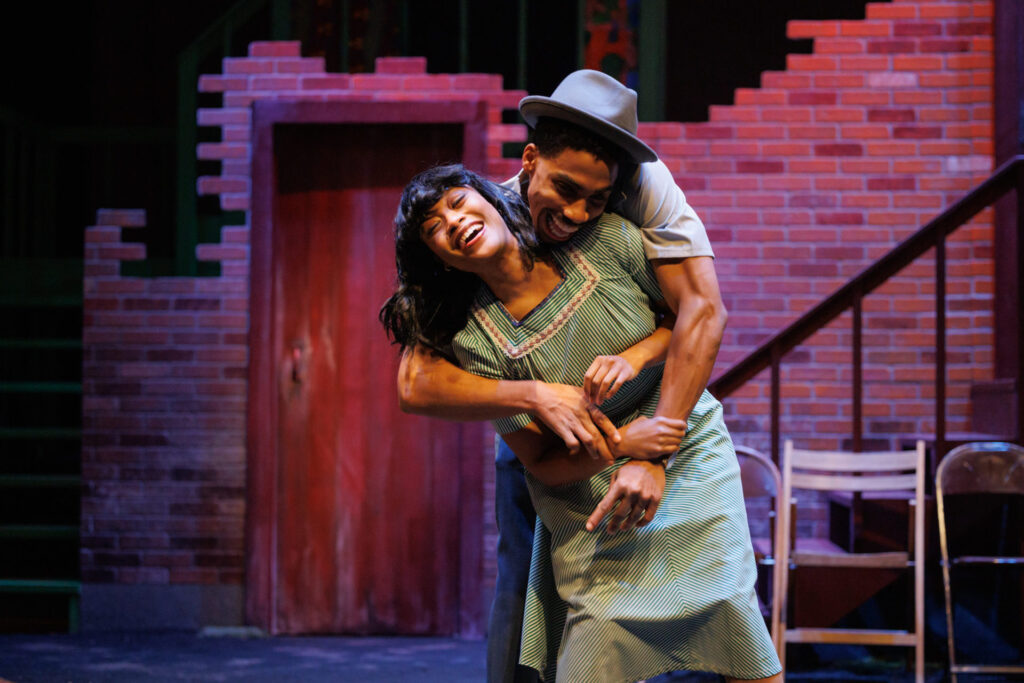 Each character has their moment, and the actors glow without showboating. All sinew and kinetic energy, Goss brings a riveting physicality to the charismatic, angry Floyd. In his hands, even a hat becomes punctuation. Carter embodies Vera, centering the play's melancholy and grace with her calm and passion. Vital is wonderfully entertaining as the chatty Louise, whose gossip takes on the gravitas of living history. As Hedley, Wilson's resident seer, Mack underplays the character, lending a gentle touch that tempers his apocalyptic rants. Robinson (Canewell) and Thomas (Red) round out and individualize the band members, while Turner brings nuance to the mantrap Ruby.
Though "Seven Guitars" clocks in at 2 hours 45 minutes (with one intermission), the pace and quality of the play and its staging never lag. Nominated for a Pulitzer Prize and winner of the New York Drama Critics Award for Best Play, it is fifth in Wilson's theatrical saga of "The Pittsburgh Cycle," ten plays set in a different decade of the 20th century. Wilson remains one of the most important voices in modern American theater, his life-size dramas drawing audiences wherever they play.
Don't miss the chance to see Actors' Shakespeare's Project flawless production of this infrequently staged play. It is a must-see bases-loaded home run! For tickets and information, go to: https://www.actorsshakespeareproject.org/
'Seven Guitars' by August Wilson. Directed by Maurice Emmanuel Parent. Scenic Design by Jon Savage; Sound Design by Abe Joyner-Meyers; Original Music Composition by Dewey Dellay; Lighting Design by Amanda E. Fallon Presented by Actors' Shakespeare Project, Hiberian Hall,182 Dudley St., Roxbury through March 5. Photo by Ken Yotsukura Photography.