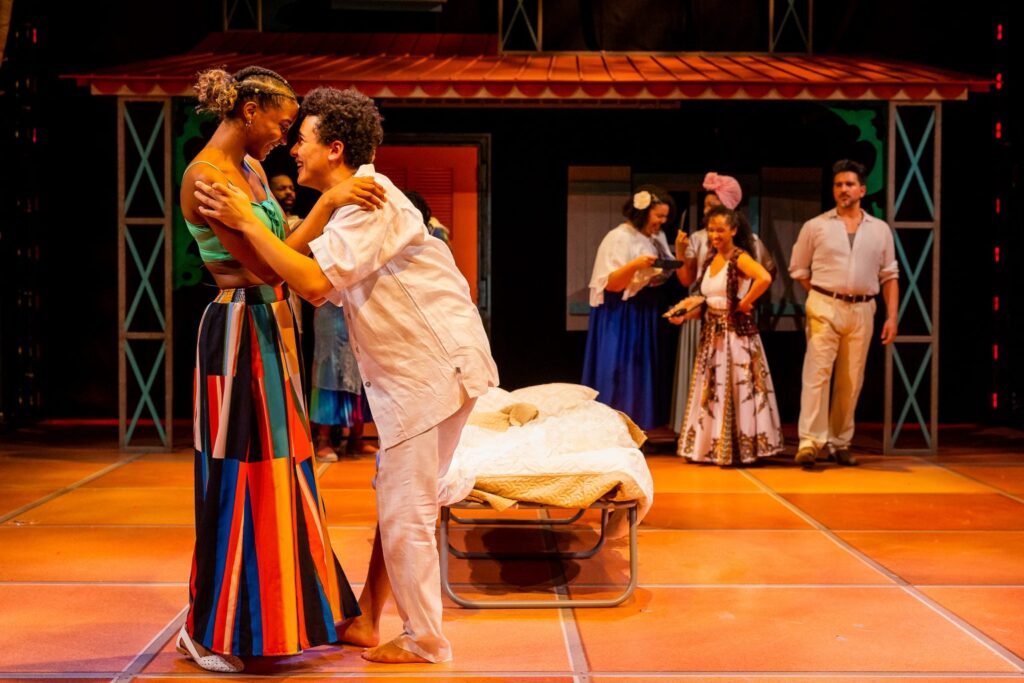 by Shelley A. Sackett
'Once On This Island' is such a happy, toe-tapping, brightly colored musical, it's easy to forget that its overarching tragic themes are Caribbean colonialism, racism, and slavery. Part 'Romeo and Juliet' (which didn't end well for those star-crossed lovers, either), part Little Mermaid and part multi-cultural folk fable, the show explains the history of the Island Hispaniola and its eventual split into Haiti and the Dominican Republic.
Yet, the show is not heavy. There is also a contagious high-spirited cheerfulness that amounts to one of the most enjoyable theatrical experiences of 2022 (and there has been some stiff competition). Erik D. Diaz's set is eye candy. Pink tiles, a shimmering crescent moon, lush vegetation and outdoor patio dining evoke the laid back magical vibe of island living.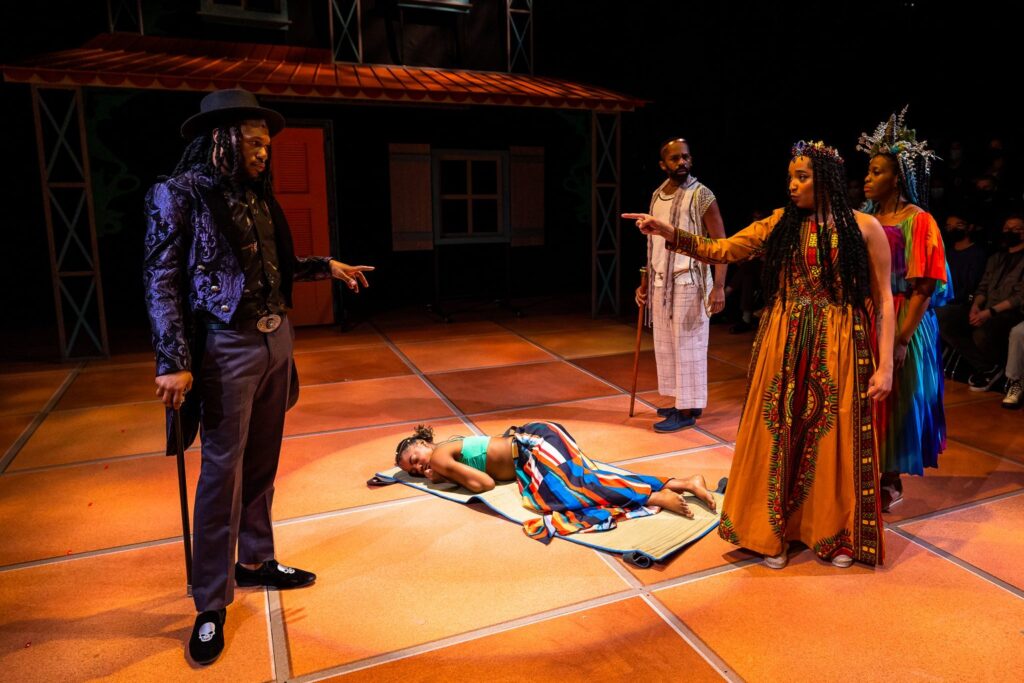 Under the direction of the talented David Freeman Coleman, live calypso music has the audience smiling and seat dancing before the play begins. The cast slowly moseys onto the stage, dressed in bright island finery. They engage and joke with audience members and each other, bantering in clear, easy to eavesdrop patois. The scene is set and the audience is primed.
Then suddenly, the horseshoe shaped stage is on fire, a burst of simultaneous music, song and dance. While there are a dozen individuals who are a "who's who" of Boston's finest actors/singers/dancers, in the prologue number, "We Dance," they are a single, well-oiled ensemble. Voices blend seamlessly in strong, crisp and tuneful harmony. Jazelynn Goudy's choreography is exciting and even more eye candy. There is so much to absorb sensorially, it's hard to take it all in.
And that's before the outstanding Peli Naomi Woods (Ti Moune) explodes onto the stage, commanding its center with confidence and grace while demonstrating her formidable vocal and dancing prowess.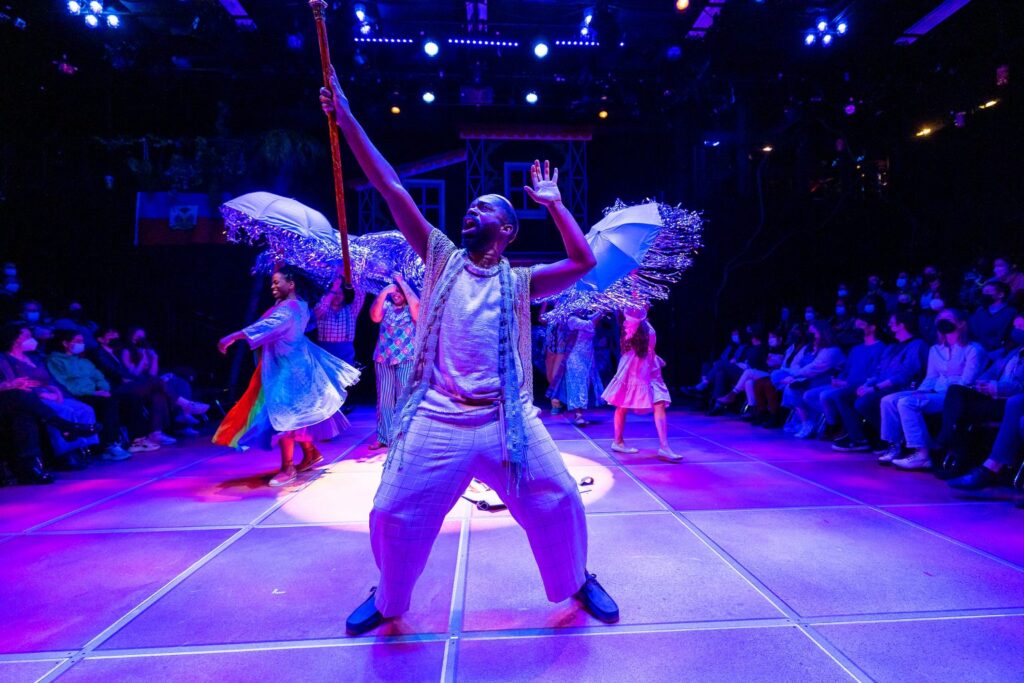 The overlapping stories of Ti Moun and Haiti (referred to as "the jewel of the Antilles") unfolds for the next 90 intermission-less minutes as an operetta, (a form of theatrical light opera) that includes spoken dialogue, songs, and dances. Told as a Hans Christian Anderson type of fairy tale fable, we learn about the history of the island and the caste system that divides people according to skin color, origin and wealth. The Beauxhommes, descendants of European colonialists, have the money, the power and the land. The native islanders are poor and stuck in their station. There is no possibility of fraternization, let alone marriage, between the two. Their futures are indelibly tracked.
Still, they all serve the caprices of the local gods, praying to them, fearing them and dancing to their music.
Through Lynn Ahrens (book and lyrics) and Stephen Flaherty's (music) magnificent libretto, we learn Ti Moun's story. It all starts with a big storm that left her an orphan. The gods spared her life for a purpose; they chose her for a magical adventure.
She is cared for by Ton-Ton Julian and Mama Euralie and grows up into the magnificent Woods. All is fine until Daniel, son of a wealthy Beauxhomme landowner, catches her eye as he races through her village in a splashy sports car. She becomes convinced they are each other's destiny. She is determined to find a way for them to be together.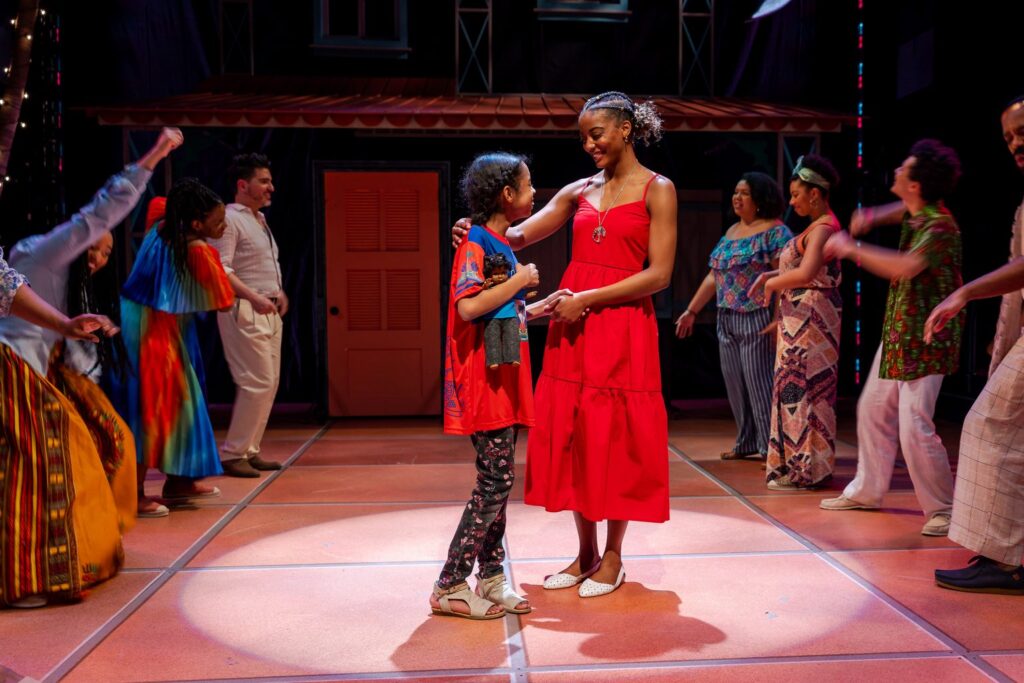 One day, Daniel crashes his car and Ti Moun finds him. She decides the gods orchestrated this, revealing their plan for her and the reason she survived the storm. She goes into hiding with him, resolved to nurse him back to health. Papa Ge, the Demon of Death, comes to claim him, and Ti Mouns makes a bargain: her life for Daniel's, payable at Papa Ge's whim.
Ti Moun believes that love's force can overcome all, even a bargain with the death god. Like Romeo and Juliet, these two really do love each other but, notwithstanding Ti Moun's faith, no love is strong enough to overpower social and political mores.
To call "Once on This Island" enjoyable is like saying the Taj Mahal is a nice space. This production sparkles on every level. The musicians are first class. The choreography is inventive and inspired. In one knock-out number, Goudy arms the dancers with silver, shimmering umbrellas. The effect is otherworldly — are they jellyfish? Protective kites? Homage to Alvin Ailey's "Revelations?" Or are they just there because it's raining?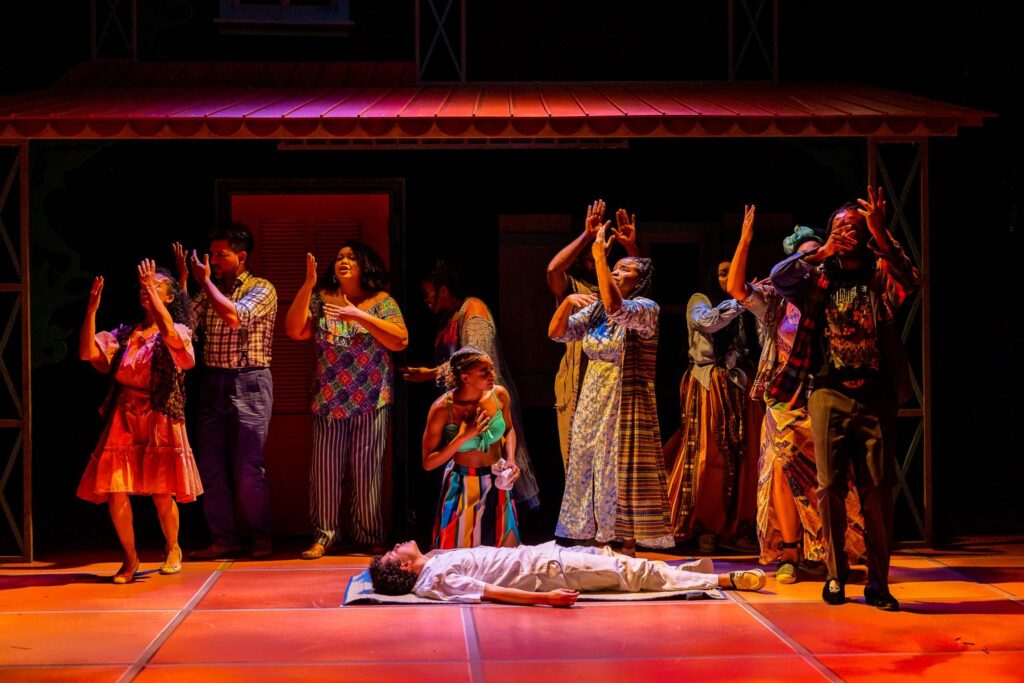 It's hard to know where to begin to give shout outs among the cast. Woods (Ti Moun) is an undergraduate senior at Boston Conservatory at Berklee with a bright future that we hope will remain in Boston — at least for a little while. Anthony Pires, Jr. (Ton-Ton Julian) brings a lithe physicality, knock 'em dead pipes and an irresistible twinkle in his eye to his role. Christina Jones (Erzulie) possesses a quiet substance and the voice of angel. And Becky Bass (Steel Pannist and narrator/storyteller) is fresh, nuanced and natural. Her facial expressions and body language are magnetic. Kenny Lee, who plays the pivotal role of Daniel, could use a little more seasoning, but that's something that additional stage time should cure.
Don't miss this balm of a show. It is a four course, five star theatrical feast.
"Once On This Island." Book and Lyrics by Lynn Ahrens. Music by Stephen Flaherty. Directed by Pascale Forestal. Music Direction by David Freeman Coleman; Choreography by Jazelynn Goudy; Scenic Design by Erik D. Diaz; Costume Design by Chelsea Kerl; Lighting Design by Aja M. Jackson; Sound Design by Andrew Duncan Will. Presented by Speakeasy Stage, Boston Center for the Arts, 527 Tremont Street, Boston, MA through April 16.
For more information and tickets, go to: https://www.speakeasystage.com/