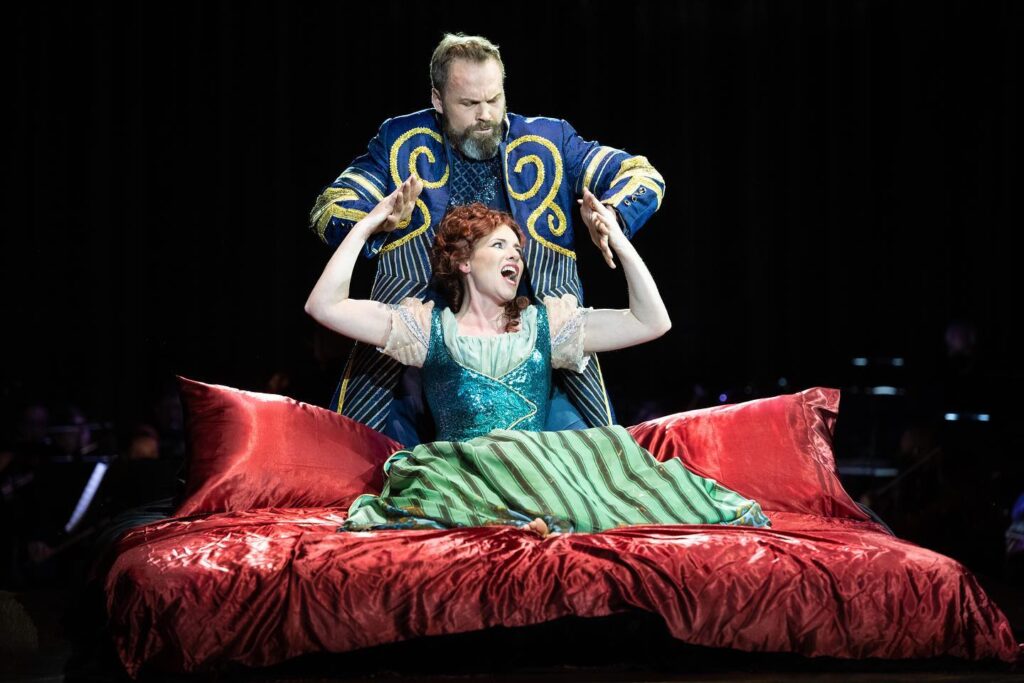 By Shelley A. Sackett
There needs to be a new term coined for BLO's current production (and all too brief run) of 'Bluebeard's Castle/Four Songs.' "Opera" just doesn't begin to describe the multi-sensorial experience provided by this inventive, exciting and unique installation event.
For starters, the venue itself is a star. Through sheer brilliance, the Flynn Cruiseport terminal is transformed into pre-show performance spaces that reflect stage and set designers Anne Bogart and Sara Brown's desire to explore "how spaces can be gendered." In the "feminine salon," costumed and bejewel-masked actresses mingle with early arrivals while Yukiko Oba plays an elegant Liberace-worthy piano. In the "masculine" VIP lounge, VIPs enjoy their cocktails in a traditional gentleman's club.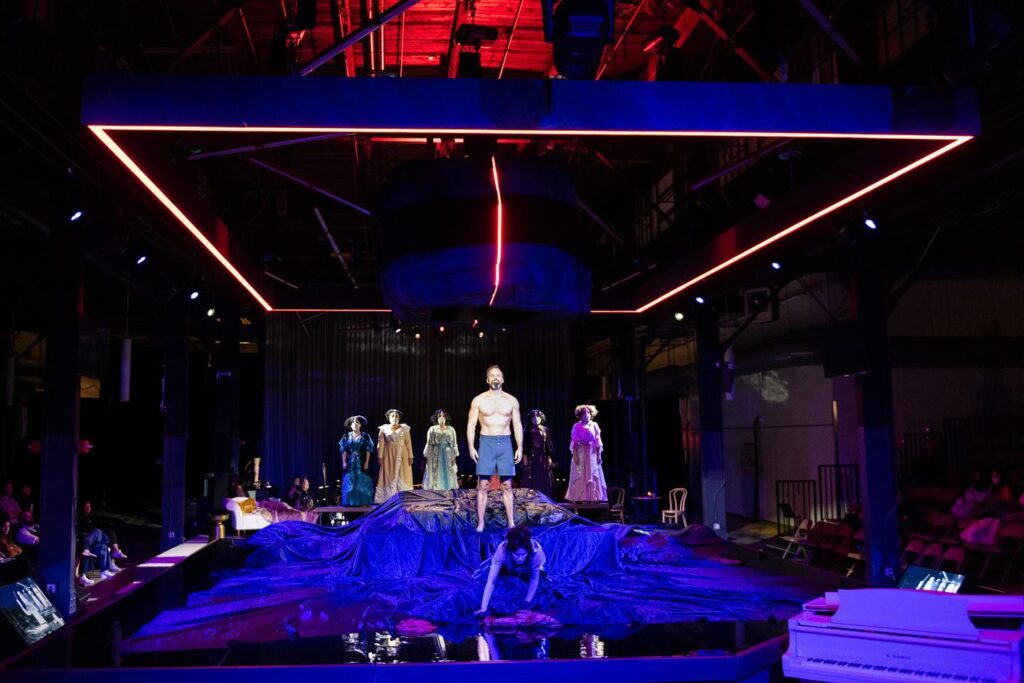 By the time the audience is seated, there is no doubt that they are about to share a memorable artistic event.
The set is glorious, with a large bed perched in the center of a three-sided stage. The periphery is set up like a Viennese café, with seating areas and a white piano. Six women, dressed in beautiful gowns, float around the perimeter, alighting on one of the tables à deux before moving on and dazzling the audience.
The plot of 'Bluebeard' is fairly straightforward with enough twists and surprises to keep viewers engaged. Judith (the iridescent, silver-throated mezzo-soprano Naomi Louisa O'Connell) leaves her family for Bluebeard (the commanding bass-baritone Ryan McKinny) and his dark, gloomy castle. She sees seven locked doors and, despite her trepidation and Bluebeard's warnings, insists he open them all. Each reveals something unexpected but the grisly finale ties it together with a stunning mixture of choreography and song.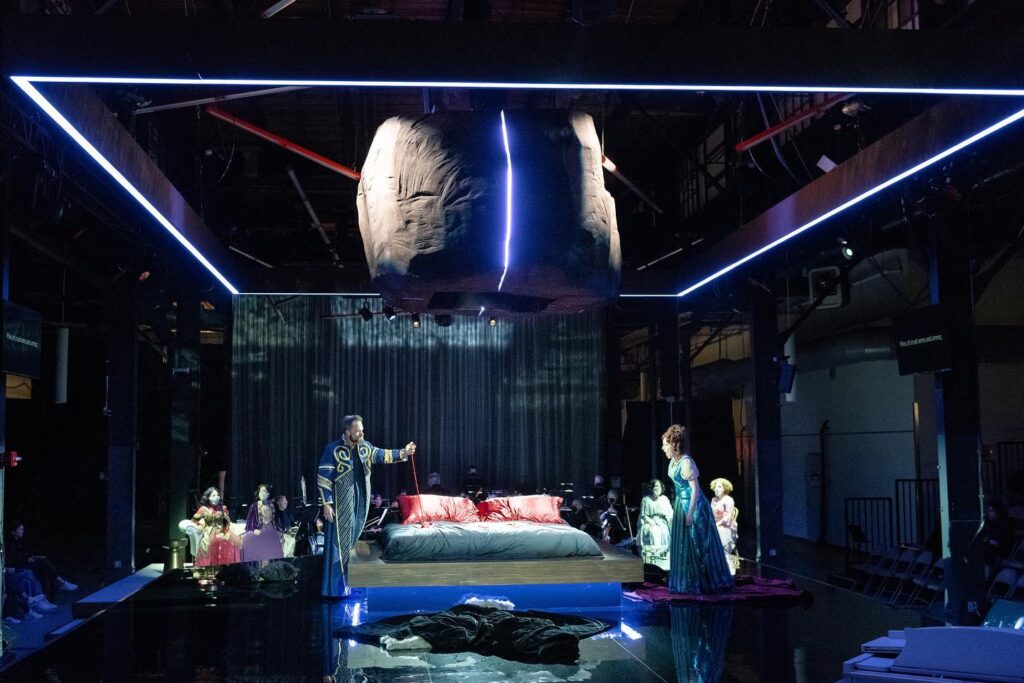 BLO's production, however, is anything but "straightforward." Above the bed is a huge lighted frame that changes hue in a way that brings James Turrell to mind. Bluebeard emerges from the empty bed like Poseidon from the deep, tossing aside the first of a dozen enormous gossamer bed coverings. The effect is breathtaking.
The only opera Bartók ever composed, the brief (one-hour) 'Bluebeard' is usually performed with another piece. Instead, BLO pairs it with songs by Alma Mahler, furthering the concept of combining the feminine with the masculine. Mahler sublimated her own talent to men, and it seemed to Bogart that there was a connection between Judith and the female composer.
Bogart interweaves the two pieces seamlessly. Before the songs from 'Bluebeard's Castle' (sung in German) begin, Judith saunters to the on-stage piano and sings three Mahler songs in English. She then speaks directly to the audience, welcoming them and inviting them to enter the world of 'Bluebeard's Castle.' With impeccable timing and to maximum effect, the voice of Bluebeard rings out as he magically appears on center stage. And the magic of that moment holds up throughout the entire evening.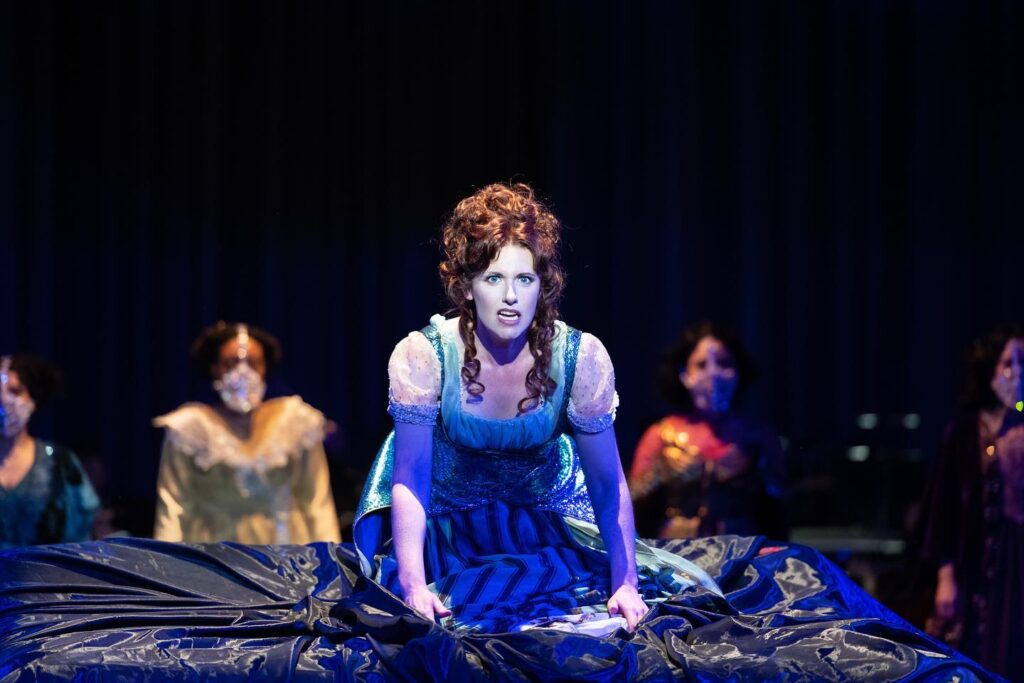 BLO's production of 'Bluebeard's Castle' is an electrifying, artistic happening. Only here until March 26, it is worth dropping everything to secure a ticket. You'll be sorry if you don't.
For information and tickets, go to https://blo.org/bluebeard/
'Bluebeard's Castle/Four Songs' – Music by Béla Bartók, Libretto by Béla Balázs, Arranged by Eberhard Kloke/Music by Alma Mahler, Arranged by Julian Reynolds. Music Director – David Angus, Stage Director – Anne Bogart; Set Designer – Sara Brown; Costume Designer – Trevor Bowen; Lighting Designer – Brian H. Scott. Presented by Boston Lyric Opera at The Terminal @ Flynn Cruiseport, 1 Black Falcon Ave., Boston through March 26.