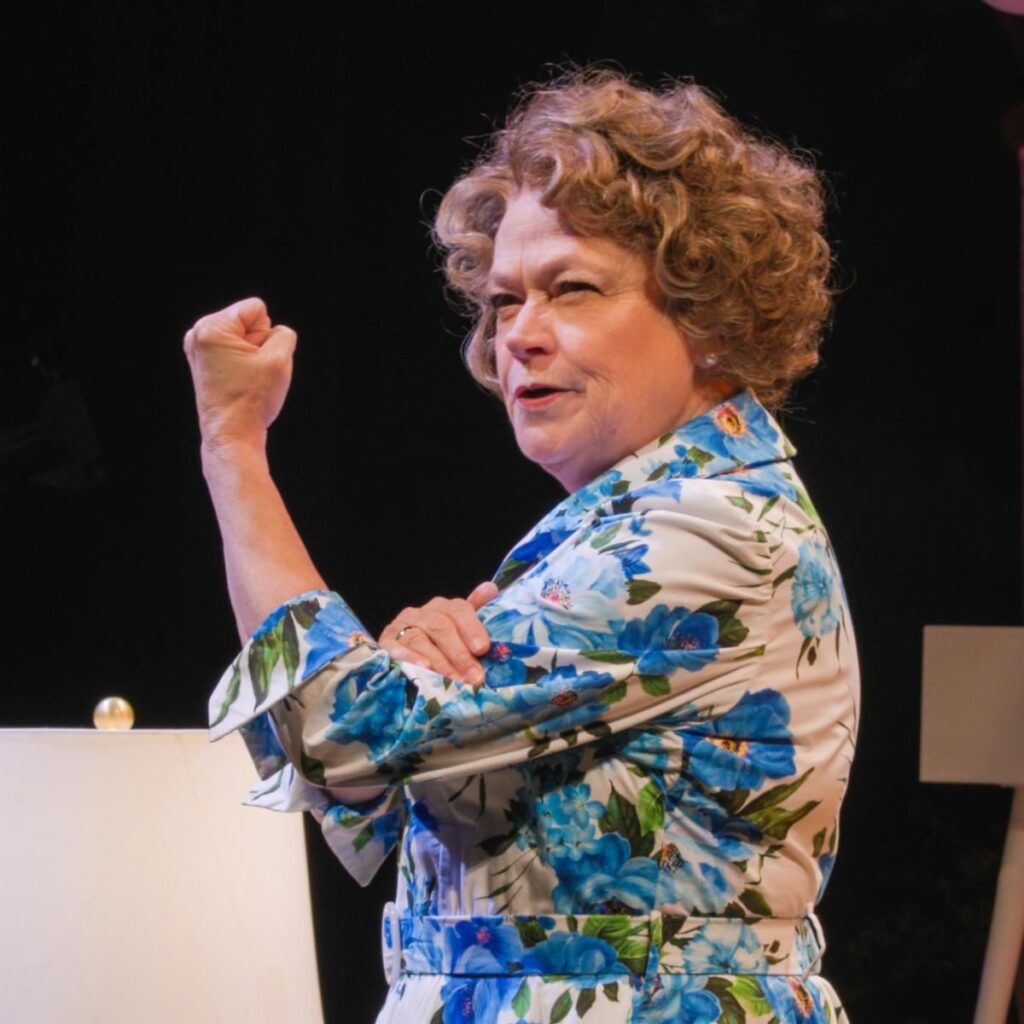 by Shelley A. Sackett
Karen MacDonald is nothing short of spectacular in the one-woman show, 'Erma Bombeck: At Wit's End,' now playing at Merrimack Repertory Theatre through March 13. For 80 intermission-less minutes, she doesn't just play Erma Bombeck; she IS Erma Bombeck, from her impeccable timing to the subtlest gesture and most delicate modulation. Don't let this one slip away without seeing it. It is a balm of enormous power during these dark tundra days.
That power comes from Bombeck herself, whose simple, perceptive and — most importantly — funny writings are the backbone of the script. It feels so good to just relax, witness a magnificent performance, and laugh.
Daniel Zimmerman's scenic design sets a perfect table for this theatrical feast. Complete with shag carpet (mustard and chartreuse), mid-century modern furniture and Hoover upright vacuum cleaner, we are instantly transported back to 1960s suburbia. His backdrop creation of a birds eye drone view of a typical neighborhood is as brilliant as it is effective. The effect is like being in a shadow box or viewing a large 3-D cinematic screen turned on its head.
We first meet Erma in her spotless living room, clad in a belted flowered shirtwaist dress, apron, pearls and heels, enjoying a moment's peace before she starts ironing, vacuuming and folding laundry. MacDonald establishes rapport with the audience before she even utters a word. Yes, she really IS that good an actor.
By the time Erma utters her first line, she has the audience in the palm of her hand. "How," she asks half in earnest, half rhetorically, "did I end up in suburbia?"
The rest of the monologue traces Erma's life, from Bellbrook, Ohio to Cherrywood
Orchards community and motherhood to her spectacular career as columnist, book author and nationally sought speaker. Along the way, we are treated to snippets of Erma's insightful, playful yet always spot-on humor and advice.
A bright woman straddling a line between domestic bliss and oblivion, Erma was a self-described "willing prisoner." She had her kids early in life and compares the drudgery and workload of stay-at-home motherhood (the second oldest profession) to prostitution (the first), the difference being that mothers don't get paid.
"I signed up for this life sentence," she admits (though without, she notes, the usual possibility of parole for good behavior). At the end of the day, however, she offers a one-size-fits-all piece of advice: "If you can laugh at it, you can live with it."
She escapes her sadness and emptiness by getting back to her writing, which was interrupted by her new role as housewife. She decides to use humor to tell the truth about her life in a column. After her third (and last) child starts kindergarten, she gets started.
Her success is immediate, her popularity taking off like a rocket into space. She goes from one column in a small, local papers to three columns weekly in a syndication of 900 papers nationwide. Yet she never loses sight or grasp of who she is and what her goals are.
"There was love in every line I wrote," she says. There is also honesty, wit, laughter and pain. Remarkable for their absence are anger and resentment.
We learn more about how a chance lecture by Betty Friedan launched Erma on her quest to pass the Equal Rights Amendment. She travelled for two years to garner support, writing her columns while on the road. She never missed one deadline during her entire career.
Towards the end of the play, Erma waxes poetic as she wistfully reflects on her career, cancer and waning years. "I was a stay at home mom," she says. "The key to my writing is I am ordinary. Most of us are unremarkable."
Although she never won a Pulitzer Prize, she is proud of her columns' status as "top billing on the refrigerator." She is such a good sport about everything, rolling with the punches and still harboring no resentment, regrets or complaints. "My plan was to wear out, not rust out," she admits. "I wrote for me and the other mothers waiting to be recognized. I valued what everyone else took for granted- good old Mom."
Her final words of advice on staying upbeat through the trials and tribulations of motherhood? "Seize every moment to make a difference," she urges. "Who wants to live with regrets? Think of all those women on the Titanic who passed up the dessert tray."
"Erma Bombeck: At Wit's End." Written by Allison Engel and Margaret Engel. Directed by Terry Berliner; Scenic Design by Daniel Zimmerman; Costume Design by Teresa Snider; Lighting Design by Joel Shier; Sound Design by Scott Stauffer; Original Music Composed by Brett Marcias. Produced by Merrimack Repertory Theatre, 50 East Merrimack Street, Lowell, MA through March 13.
For tickets and information, go to: https://mrt.org/