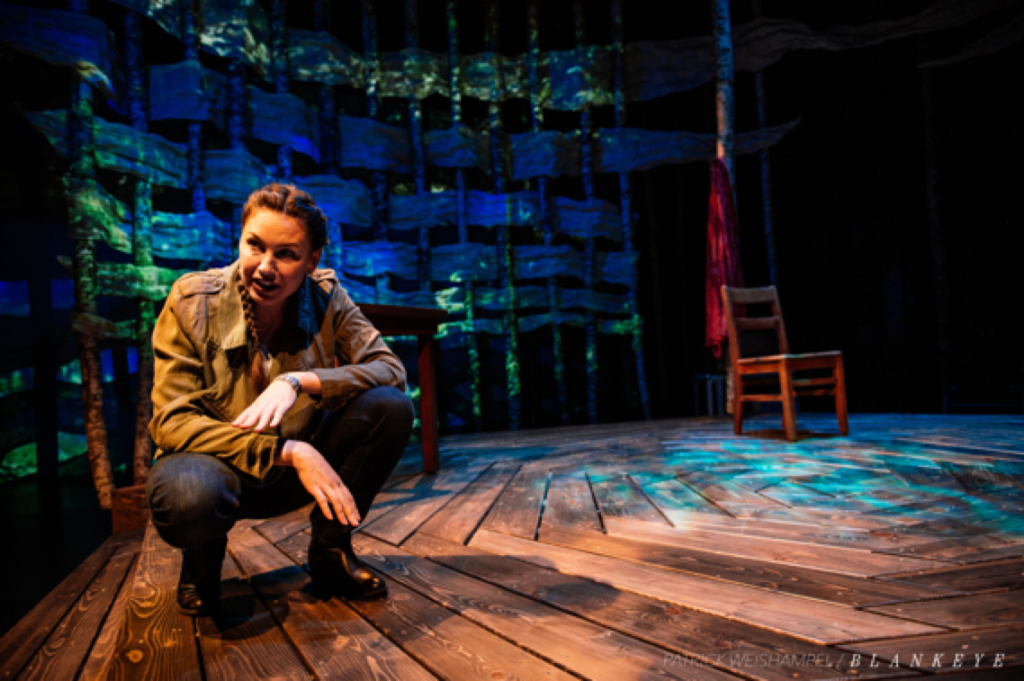 By Shelley A. Sackett
When the pre-written announcement acknowledging Indigenous and Enslaved Peoples is read prior to every local theatrical production, it often feels disconnected from the show that follows. Not so with Cherokee actress, artist, and activist DeLanna Studi's stunning one-woman autobiographical presentation, 'And So We Walked."
For 150-minutes (one intermission), we shadow Studi's and her ancestors' lives as members of the Cherokee nation. She and her full-blooded 70-year-old Cherokee father (her mother is white) spend six weeks retracing the Trail of Tears, that noxious route trudged by over 100,000 Native Americans in the 1800s after they had been forcibly removed from their homes by the U.S. government. It is the same path her great-great grandparents took during the relocation of 17,000 Cherokee people.
The audience learns how tens of thousands of Native Americans died in retention centers, and many more by way of the trail. The survivors never received the $5 million sale price of their land, nor promised reparations.
"Every great story has truth in it and that truth is dangerous," Studi explains. "The Cherokee story is written in blood."
She peppers the evening with anecdotes, history and geography lessons, and terrific metamorphoses into a dozen characters, embodying their subtle physical and dialectic idiosyncrasies. She is a riveting presence on stage; maintaining audience interest for over two hours is no small feat, one the opening night audience acknowledged with its standing ovation.
The simple, elegant set and judicious choice and use of props captures the trail's atmosphere, straddling between contemporary and pre-removal Cherokee life. Large pieces of white horizontal fabric reflect a variety of projected images, conjuring interior and exterior spaces. Studi is a magician at using the set to invoke a school house, Cherokee Council House, SUV and campfire gathering.
She covers a lot of ground, delving into factual topics such as the forced "reeducation" of Native children in white boarding schools from the 1860s until the 1980s. She also tackles the personal, emotional and cultural issues surrounding what it means to be a Native American in contemporary America. She feels isolated and tribeless, a bridge between two worlds, neither of which she can ever fully claim as home.
Studi replays the scene when, as a young school girl, her teacher announced that "Indians are extinct." Because she was only half Cherokee, the elders made her sit alone at tribal ceremonies. Later in life, when auditioning for acting roles, she was told she was too white for Native parts and too Native for white roles.
Her father tries to reassure her that blood quantity is irrelevant; she should be proud of her heritage, standing tall and strong as a Cherokee woman.
"Being Cherokee isn't about blood," he tells her. "It's knowing who you are. And keeping it alive."
On her own, personal trail of tears, Studi discovers who she really is and what her rights and responsibilities are as one of the very few whose ancestors survived the Trail of Tears. Searching for her place and identity, she uncovers her essence and where she fits in.
Studi is especially effective when she addresses the audience directly, letting them in on a joke or expressing a particular emotion on her manipulable face. Although her story is replete with loss, victimization and trauma, she has seasoned it generously with humor and wit.
After their journey, her father asks, "Didja get what you came for?" If 'And So We Walked' is representative of what Studi gained, I'd say we all came out winners.
For tickets and information, go to: https://artsemerson.org/
'And So We Walked' — Created and Performed by DeLanna Studi. Directed by Corey Madden; Scenic Design by John Coyne; Costume Design by Andja Budincich; Lighting and Projection Design by Norman Coates; Sound Design and Original Music by Bruno Louchouarn. Co-represented by Octopus Theatricals and Indigenous Performance Productions. Presented by Arts Emerson at the Emerson Paramount Center, 559 Washington St., Boston through April 30, 2023.