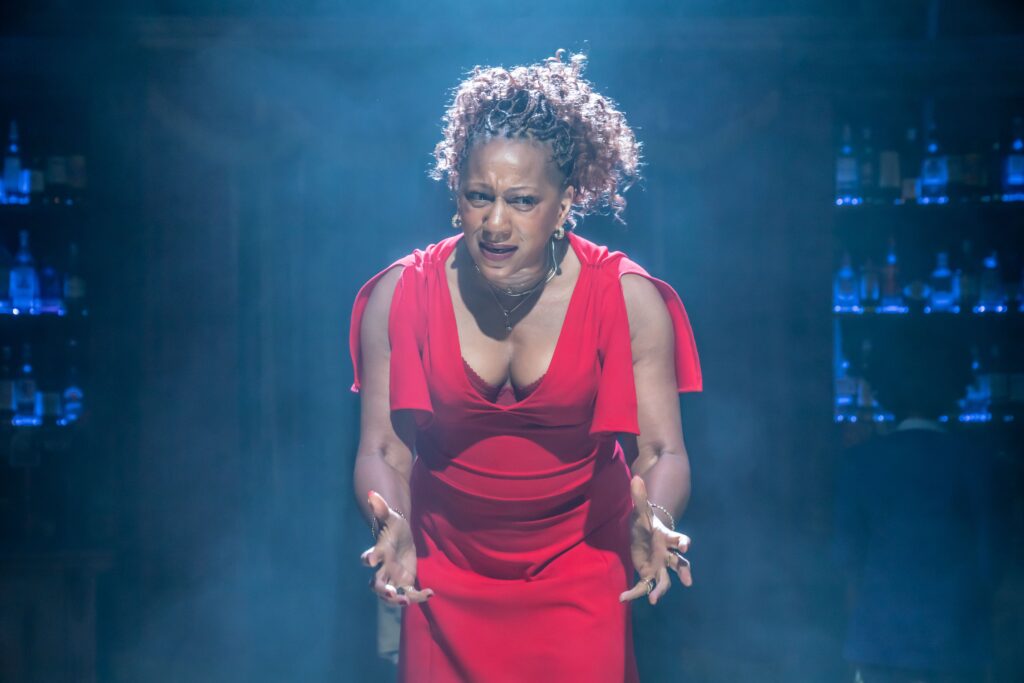 by Shelley A. Sackett
Whether by design or chance, the slightly tardy start to "The Wife of Willesden" gifted the audience with a few bonus minutes to soak in the vibe of Robert Jones's magnificent set while seat dancing to disco party tunes. The stage, meant to represent a pub in Willesden (a multi-racial part of North London's Brent) feels more like a holy shrine to drink and camaraderie. Six triple-case bays are filled floor to ceiling with glimmering bottles. A disco ball sparkles from above. A barmaid cuts fruit while local revelers mill about. Members of the audience sit at small tables on the stage, further breaking down the fourth wall. The effect is, well, intoxicating.
And then boom! The play starts.
Enter Author (Jessica Murrain), an undisguised stand-in for playwright Zadie Smith, who profusely apologizes for the play we are about to see and introduces us to the pub's lively, diverse clientele. "If there is a person in Brent who doesn't think their life should be turned into a 400-page story, I'd like to meet them," she declares.
Based on Chaucer's 1392 "The Canterbury Tales," Smith's raucous modernized reworking has the pub's motley group of locals gathered for a story-telling competition with the prize of a full English breakfast to the winner. The first few stories are told by pompous men, who drone on about themselves with misplaced over-confidence. Lurking in the background is Alvita, the Wife of Willesden. Finally, fed up with the men's yawning yarns and itching for center stage, she grabs the imaginary mic and never puts it down.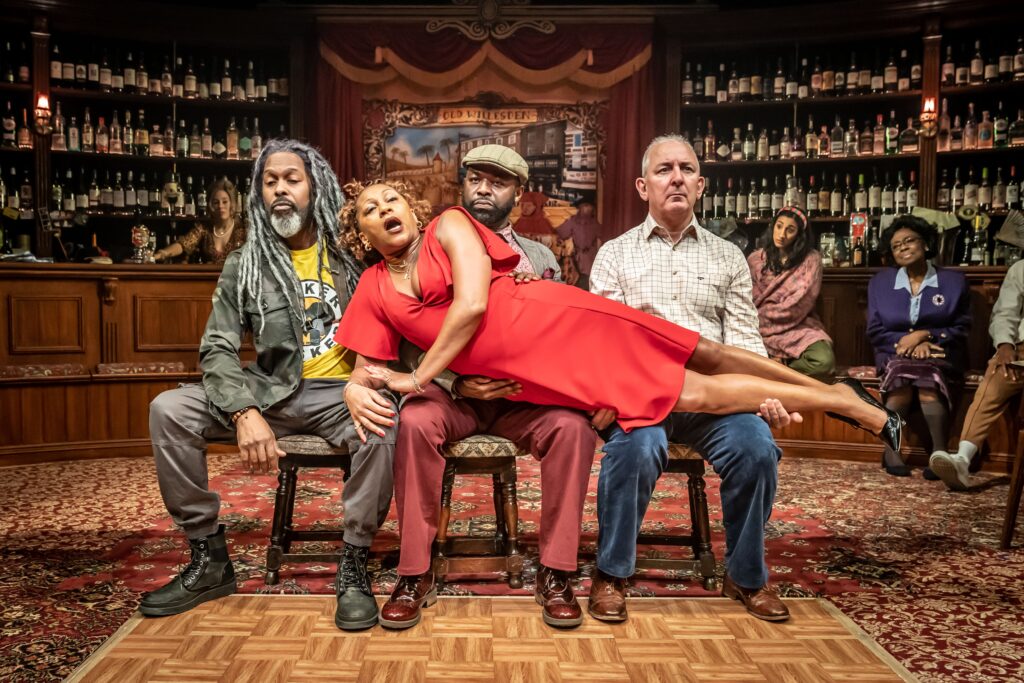 As Alvita, Clare Perkins is a category 6 hurricane. Poured into a scarlet body-hugging dress and shod in weapon-grade stilettos heels, she bursts into the spotlight and commands it for the rest of the evening. Brash and boozy, fierce and wise, Alvita has a story to tell, a folktale about an 18th-century Jamaican soldier and a life-changing lesson he learned. But first, she needs to introduce herself and provide a little context. By way of prologue to her actual tale, she recounts her romantic history of five marriages with full Monty unapologetic focus on sex, pleasure, and her rapacious libido.
"The shock never ends when women say things usually said by men whether today or 600 years ago," she says with a wink. Alvita is a consummate narrator. She imitates, animates, and intimidates, bringing her history to life with the help of her husbands, who happen to be at the pub. They are her willing props as she details their virtues and vices, defending her right to marry as many times as she pleases. She is utterly devoid of regrets and chafes at anyone who dares to judge her. Her philosophy of life defies conventions and rules, be they religious, political, or matrimonial. "What you call laws, I call advice," she tells her strict, churchgoing aunt. "I think God likes variety."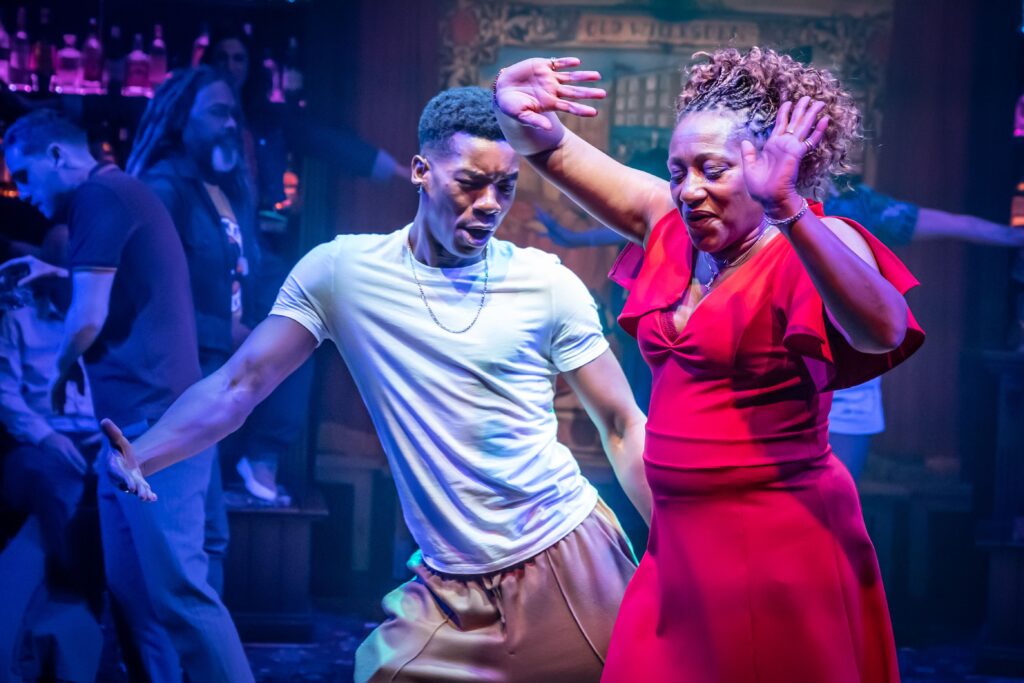 Most of all, Alvita is an unashamed pleasure seeker. She wears her libido on her sleeve like a badge of honor. "I demand pleasure," she half growls, half purrs. "I'm all about what feels good." Eventually, (and just in the nick of time, as the prologue begins to feel more like a reprise), Alvita launches into the meat of her story — the Jamaican folktale. A young 18th-century soldier is sentenced to die for raping a woman. In the spirit of restorative justice, the benevolent Queen Nanny agrees to spare his life under one condition. He has a year and a day to comb the earth and discover the answer to the same question Alvita poses rhetorically throughout the play: What do women want?
The folktale's answer echoes Alvita's feminist refrain— women want to be free of fear, to be happy, to follow their own path of their own making, and, most importantly, to be deliciously, eternally, and completely satisfied sexually. She looks at the men around her and the power they claim as rightfully theirs and basically says, "I'll have what they're having."
Perkins's performance cannot be overpraised. She doesn't steal the show; she IS the show. Her charismatic Alvita may present as part stand-up comic, part Tina Turner, but beneath that flashy exterior beats a tender heart with a sage message. Perkins effortlessly melds Alvita's contradictory traits into a single nuanced and likable character.
Kiln Theatre Artistic Director Indhu Rubasingham brings a playfulness to the 95-minute (no intermission) production, changing mood, time, and place with, for example, a simple gold tray behind the head to represent an apostle or bar rags to represent togas. The superb ensemble cast doesn't seem to be acting when frolicking on stage; they are thoroughly enjoying themselves.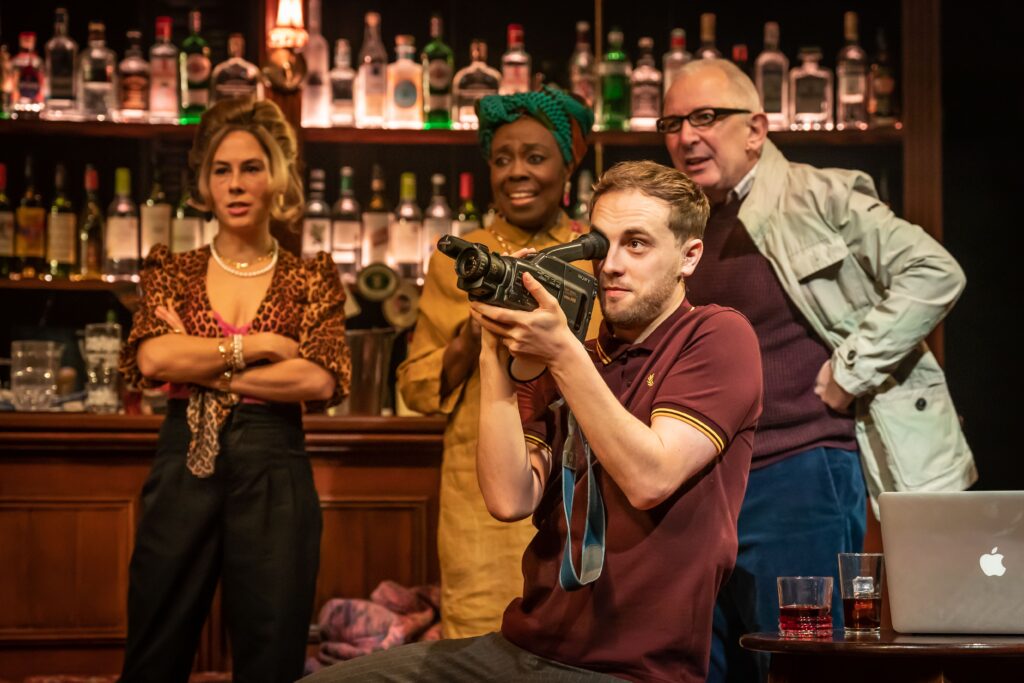 Finally, there is Smith's ambitious and smart play. Although the cast's uneven Jamaican, Nigerian, and North London accents and rapid-fire delivery made some of the lines impossible to decipher, Smith's rhyming couplets in today's vernacular evoked Chaucer's Middle English in rhythm and meaning. That is no small feat. I wouldn't be surprised if there is an uptick in interest in the original as a result. Or in Smith's award-winning novels.
Though not without flaws, "The Wife of Willesden" is clever, fast-paced, and beautifully produced with a timely message and, above all else, the magnificent Clare Perkins in a role she was born to play. Although studying Chaucer is hardly a prerequisite, a cursory google search would enhance appreciation for Smith's remarkable talent while scattering a few breadcrumbs to make following its path easier. For tickets and information, go to: https://americanrepertorytheater.org/
'The Wife of Willesden' – Adapted by Zadie Smith from Chaucer's 'The Wife of Bath' from The Canterbury Tales; Directed by Kiln Theatre Artistic Director Indhu Rubasingham; Design by Robert Jones, Lighting Design by Guy Hoare; Composition and Sound Design by Drama Desk Ben and Max Ringham. The Wife of Willesden is a Kiln Theatre Production and is presented in association with BAM (Brooklyn Academy of Music) at the Loeb Drama Center, 64 Brattle St., Cambridge, MA through March 17