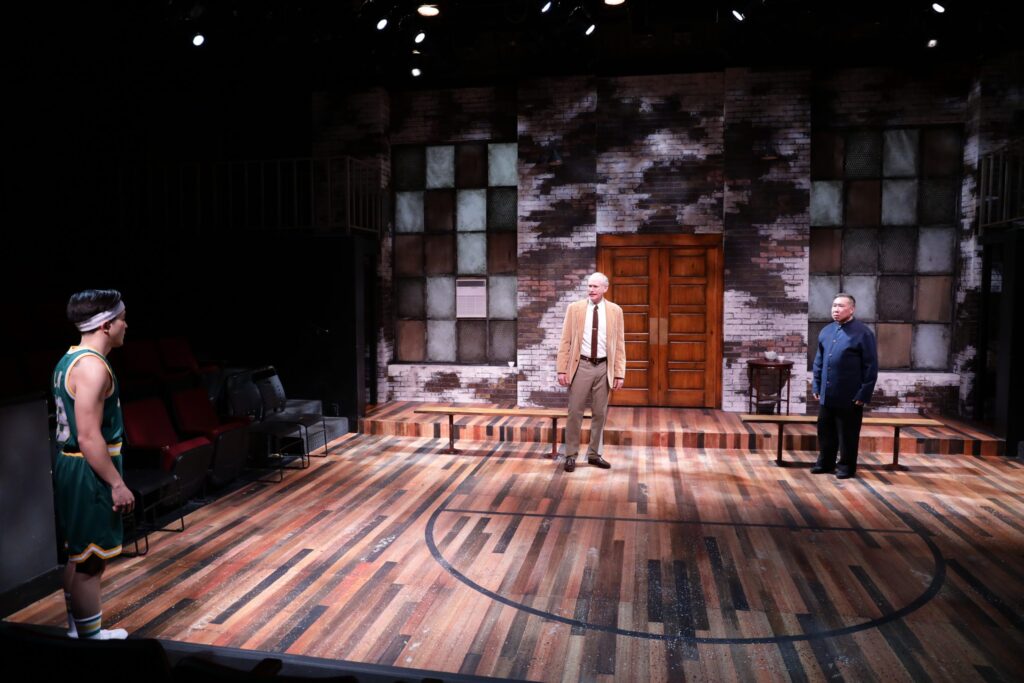 By Shelley A. Sackett
Award-winning playwright Lauren Yee has skin in the game with her play, 'The Great Leap,' now making its Boston premiere at Lyric Stage Company. Her father, a rare 6'1" Asian-American basketball player, was part of the 1981 team the US sent to China for a "friendship game" between Beijing University and the University of San Francisco. The Americans were demolished during the exhibition games.
Yee suspects the team, composed of non-NBA, non-college players, was hand-picked by the Chinese so the Americans would lose. Her father, who recounted his experiences to her as she wrote her play, was very helpful. "On stage, you'll see a version of my father; it's not pretending to be him," Yee says in the program notes.
She sets her drama in 1989, a year that saw rising demonstrations for political and economic reform in Tiananmen Square. Using humor, spicy vernacular and some actual on-stage dribbling sequences, she weaves together an absorbing story while making some astute points about the intersection and consequences of politics, cultural identity and human foibles.
The plot is pretty straightforward.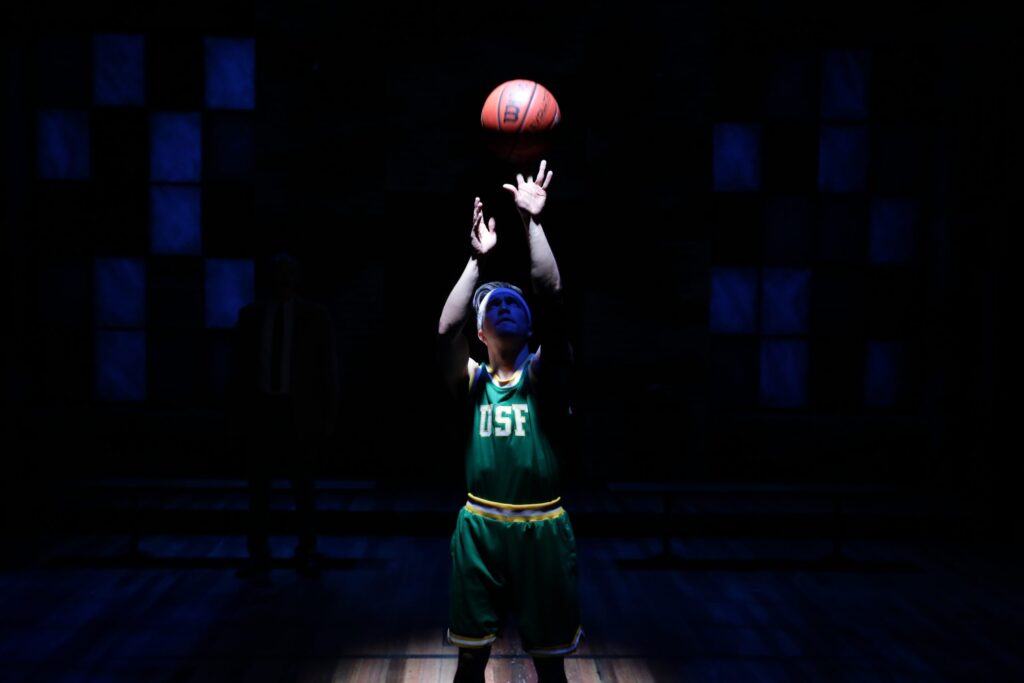 It is 1989. Manford (an outstanding Tyler Simahk), "the most feared basketball player in Chinatown," is a pushy and single-minded 17-year-old. The play opens with him confronting the San Francisco University basketball coach, Saul (a first-rate Barlow Adamson), demanding that Saul put him on the team he is taking to China to play in an exhibition match against Beijing University on June 3 and 4.
Saul has heard of Manford, "the only guy who got thrown out of a game for fighting with his own teammate." Manford knows a thing or two about Saul, too, and wastes no time striking at Saul's Achilles' heel. With an 8-20 losing record, his career is circling the drain. A loss to a Chinese team would finish him. Only Manford can rescue him from this fate.
"I am the most relentless person you ever met," Manford taunts.
Turns out Coach Saul was at the helm of the team that traveled to Beijing in 1971 to advise a politically appointed amateur, Wen Chang (an outwardly cardboard but inwardly emotive Gary Thomas Ng) about the American game of basketball. This was at the height of the ferocious Cultural Revolution. Wen's assignment was more about his Communist "rehabilitation" than a perfect job match.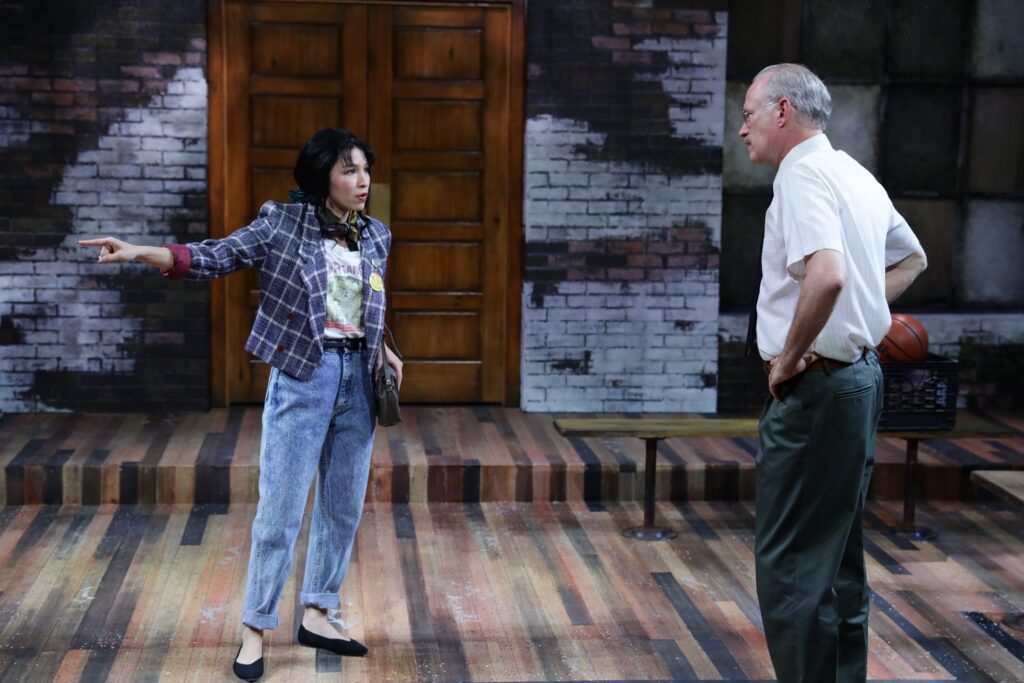 Eighteen years later, Saul is headed back for a rematch against Wen. Manford's mission is to convince Saul that the Americans will lose unless Manford is on the team. He's better than any point guard Saul has on his SFU roster and he knows what Saul will be facing when he returns to Beijing. "Eighteen years ago, you went as their guest. You're going back as their enemy," he warns.
Manford has another reason he needs to return, and that hidden secret drives the ending's delicious plot twist and would be an unconscionable spoiler to reveal. He has just lost his mother, who fled Beijing before he was born and whom he claims he didn't really know (she spoke only Chinese). His father was never in the picture. He now lives with the family of his "cousin" Connie (a terrific Jihan Haddad), a 25-year-old graduate student and Manford's cheerleader and True North.
The rest of the almost two-hour (one intermission) production flips back and forth between 1971 and 1989, filling in the gaps in the storyline and fleshing out its four characters. The flashbacks to 1971 (wonderfully costumed by Seth Bodie) contrast the brash, arrogant Saul and Wen, the hollowed-out victim of a regime he hates but resignedly obeys. Eighteen years later, their positions and perspectives have shifted. Wen is on top of his game and is chomping at the bit to give Saul a taste of the medicine he dished out in 1971.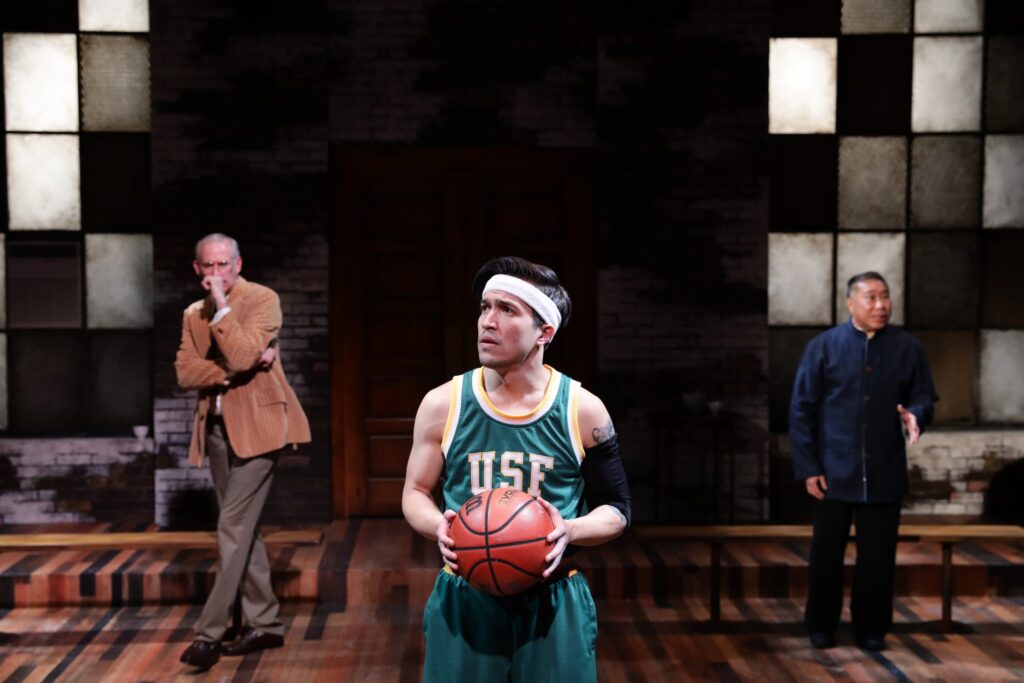 Yee tackles many big-ticket issues in her play (the human cost of the Cultural Revolution, taking a stand vs standing still, living an authentic life, and cultural identity) and by its end, we understand her four characters and what makes them tick. Although overlong and in need of some editing, "The Great Leap" is greatly satisfying and its ending alone is worth the price of admission.
For tickets and information, go to:www.lyricstage.com
The Great Leap – Written by Lauren Yee. Directed by Michael Hisamoto. Scenic Design by Baron E. Pugh. Costume Design by Seth Bodie. Lighting Design by Michael Clark Wonson. Sound Design by Elizabeth Cahill. Presented by Lyric Stage Company of Boston through March 19, 2023.